General travel information for Indonesia
Here are some things to consider before coming to Indonesia. If you fill out the 'contact us form' we will give you the additional info you will need.
In the sidebar, on the left side, you will find the topics we discuss on this page. We have made a selection based on important things to know before travelling to Indonesia.
Tourist Visa
Citizens from 62 countries and 1 region are eligible to apply for a Visa on Arrival.
This visa can be applied for after you have landed at major airports and seaports in Indonesia. Starting from june 2015, 45 of these countries can get this visa for free if arriving at one of the following gateways to Indonesia:
Soekarno-Hatta Airport in Jakarta, Ngurah Rai Airport in Denpasar (Bali), Kualu Namu Airport in Medan (North Sumatra), Juanda Airport in Surabaya (East Java), Hang Nadim Airport in Batam, Port of Sri Bintan in Bintan, Port of Sekupang in Batam, Port of Batam Center in Batam and Port of Tanjung Uban in Riau.
The list of these free "visa-on-arrival" countries is: here
The other countries have to pay US$35 (19 Januari 2017) at the immigration booth of the port of entry.
All major currencies are accepted: bear in mind that the conversion rate may be unfavourable for you so it is always better to pay in US$ .
The maximum stay permitted by the visa on arrival is 30 days. The Visa on Arrival cannot be converted or extended unless:
1.a - You pay the VOA of US$35 regardless when you arrive at the airport.
1.b - You extend this visa a week before it expires at an immigration office in Indonesia.
or
2. You arrange the 60-day visa before coming to Indonesia at an Indonesian embassy (outside Indonesia), which is cheaper.
In case you do not extend your tourist visa as described above, be advised that Visa On Arrival may only be extended upon approval from the Director General of Immigration of the Republic of Indonesia in case of natural disaster, illness or accident, but cannot be transferred to another type of visa.
Overstay visitors incur to pay a penalty of US$20 per day/person (for under 60 days stay) whilst over 60 days stay will be a 5 year prison sentence or a fine of IDR 25.000.000 (Indonesian Rupiah - Rp).
You should take the following in consideration:
- Passport must be valid for a minimum of 6 (six) months as from the date of entry into Indonesia.
- Onward or return tickets are compulsory and may be asked to show upon entering Indonesia.
- No compulsory vaccinations, see Vaccinations.
If you want to stay longer than 60 days, please let us know, we can give you additional info about the different visa's and how to apply for them.
airport tax
There used to be airport taxes to be paid when travelling by air in Indonesia. This amount varied between IDR 30.000 and IDR 75.000 for domestic flights and IDR 200.000 for departing Bali on an international flight.
Not anymore. Since around may 2015 ALL taxes, used to be paid at departure for domestic or international flights, are now INCLUDED in the price of the ticket.
Climate in IndonesiaTop
Located around the equator, Indonesia tends to have a fairly even climate year-round, with only 2 seasons, the rainy season and the dry season.
In most parts of Indonesia, the rainy season falls between October and April -low season-, and the dry season -high season- between May and September.
Rain tends to come in sudden tropical downpours, mostly in the evening, but it can also rain nonstop for days.
Though travel in the wet season is not usually a major problem in most parts of Indonesia, mud-clogged back roads can be a nuisance.
The December to February rains can make travel prohibitive in Nusa Tenggara, when rough seas either cancel or sink ferries, and roads on Flores are washed out.
It can become very crowded in tourist areas and prices will escalate in Bali and Java during the main Indonesian holiday periods. These are at the end of Ramadan, Christmas, and mid-June to mid-July, when graduating high-school students take off by the bus load to various tourist attractions.
Bali and Lombok, namely the Gili's, have experienced a huge increase in tourist numbers during the months July and August.
Security issues in Indonesia are often exaggerated by the foreign media, who make it seem like the whole nation is in turmoil. Foreign governments add to the hype with travel warnings.
While it's true that small sections of Indonesia experience flashes of conflict, overall the archipelago is quite safe.
In the wake of the 2002 and 2005 Bali bombings, and the disaster bombing at the Ritz Carlton and JW Marriott in Jakarta on 17 July 2009, Indonesians have made lots of effort to revive the suffering tourist industry.
There has been an increase in security measures at airports and tourist centres and extremist organizations have been forbidden. It's impossible to say where such attacks will or won't occur, yet the reputation of Indonesia has been damaged since these bombings, inluding the most recent bombing in Jakarta on January 2016.
Click to enlarge : New notes: Old notes:
The unit of currency in Indonesia is the rupiah (Rp). There are coins worth Rp 100, Rp 500 and Rp 1.000. Banknotes come in Rp 1.000, Rp 2.000, Rp 5.000, Rp 10.000, Rp 50.0000 and Rp 100.000.
Since 2017 and 2018 new bank notes for all validations have been introduced and are currently - August 2018 - in circulation.
Be careful with the Rp 10.000 and the Rp 100.000 banknotes since they look almost the same especially in the evening!
It is always a good idea to carry cash around, especially the smaller banknotes, since for many local people it will be hard to give change back from a Rp 50.000 or Rp 100.000 note.
The days are over that you needed to travel with Traveler checks or large amounts of cash. Nowadays there are many ATM's in major city's and tourist areas, even in Gili Trawangan (Lombok) and Nusa Lembongan (Bali), but not in the more remote and less visited areas.
Check in your country what kind of exchange rate your bank uses (your currency - Rupiah), some banks have a tendency to give you a lousy exchange-rate. In that case, change banks or go for the old fashioned Traveler checks.
Credit cards are nearly everywhere accepted, but always check. When changing money, better not do that on the street, but go to a bank or a reputable exchange office (NOT at the airport, because they give you a bad rate).
Most airports have ATM's outside where you can withdraw money.
Car & motorcycleTop
Renting a car or motorcycle can open up Bali and Lombok for exploration and can also leave you counting the minutes until you return it. In Indonesia people drive on the left side this might be a problem for most Westerners who are used driving on the right side of the road, except the English.

A motorcycle might not give you many problems, but remember that with a car also the driver's seat is on the other side.
Many people don't want to be bothered with all this hassle, especially when you are on a short holiday, and prefer a taxi or car with chauffeur, which is what we recommend also.
Driving Licence
If you plan to drive a car, you're supposed to have an International Driving Permit (IDP).
You can obtain one from your national motoring organization if you have a normal driving licence.
Bring your home licence as well, it is supposed to be carried in conjunction with the IDP.
In case you don't have an IDP, add Rp 50.000 to any fine you'll have to pay if stopped by the police.
Motorcycle Licence
If you have a motorcycle licence at home, get your IDP endorsed for motorcycles too.
The person renting the bike may not check your licence or IDP, but the cop who stops you will!
You might get away without a motorcycle endorsement when you are lucky, but an IDP or local license is mandatory in Indonesia.
Officially, there's a two million Rupiah fine for riding without a proper licence, and the motorcycle can be impounded.
Recentely in the Kuta area, a new con trick goes around, whereby local motorcycle owners who rent out their bikes are repossesing them during the nightly hours. When the missing is reported to the owner by the client the owner will demand a full reimbursement for the loss of the bike. If this happens to you, insist on going to the police to report the theft. Usually this will scare them enough to not follow through.
Indonesia has demonstrated its zero-tolerance policy towards drugs with high-profile arrests and convictions recently.
In 2005 Australian Schapelle Corby captured news headlines around the world when she was arrested in Bali for allegedly smuggling 4kg of marijuana into the country.
She received a 20-year prison sentence and is, after serving more then 9 years in prison, currently working in a garment factory in Bali still on parol.
The same year a group of people, including five Australians, were caught with several kg of Heroine at Denpasar airport. They are known as the "Bali nine", seven of them received 20 years imprisonment and two were sentenced to death and have been executed on April 2015.
WARNING:
There is no differentiation between 'personal use' and 'distribution' and even one pill is sufficient to land you in jail for many years. Hotel owners are also required by law to report offenders.
InsuranceTop
Even if you are fit and healthy, better not travel without health insurance.
If you're uninsured, emergency evacuation is very expensive. Bills of over US$ 100.000 are not uncommon and more then often you need to pay in cash.
Find out in advance if your insurance plan will make payments directly to providers or reimburse you later for overseas health expenditures.
Some policies ask you to call back (reverse charges) to a centre in your home country where an immediate assessment of your problem is made.
For divers:
Make sure your insurance covers diving related accidents, especially evacuations and treatment in a hyperbaric chamber.
We can provide additional information about this subject - see "Healthcare" below for a list with hyperbaric chambers in Indonesia.
MedicationTop
If you have to use medication than you should pack them in their original, clearly labeled containers.
A signed and dated letter from your physician describing your medical conditions and medications, including generic names, is also a good idea.
If you have a heart condition bring a copy of your ECG taken just prior to travelling.
It make sense to bring double your needs if you take regular medication in case of loss or theft.

You can buy many medications over the counter without a doctor's prescription, but it can be difficult to find some of the newer drugs, particularly the latest anti-depressant drugs, blood pressure medications and contraceptive pills.
HealthcareTop
It is difficult to find reliable medical care in rural areas, but most capital cities now have clinics catering specifically to travellers and expats. These clinics are usually more expensive than local medical facilities, but are worth consideration, as they will offer a superior standard of care.
They understand the local system, and are aware of the safest local hospitals and best specialists. They can also liaise with insurance companies should you require evacuation.
For divers:
There are around 7 operational hyperbaric/recompression chambers in Indonesia.
- Denpasar on Bali - Sanglah General Hospital - USUP Sanglah Denpasar.
- Manado on Sulawesi - Malalayang Hospital (chamber for 3 to 4 persons, 2 when lying down).
- Manado on Sulawesi - Professor Dr. Kandou Hospital.
- Makassar on Sulawesi - Rumah Sakit Umum Wahidin Sudirohusodo.
- Jakarta on Java - Rumah Sakit Angkatan Laut (Navy Hospital).
- Surabaya on Java - RS Angkatan Laut (Naval Hospital) with 2 units.
- Balikpapan on Kalimantan (Borneo) - RS Pertimina Balikpapan with 1 unit a little larger than Manado but smaller than Sanglah.
Traditional medicine
Jamu: traditional medicine in Indonesia. It is predominantly herbal medicine made from natural materials, such as parts of plants such as roots, leaves and bark, and fruit.
There is also material from the bodies of animals.........
Throughout South East Asia, traditional medical systems are widely practised. Please be careful not to buy anything where supplements of animals, mostly endangoured species, are used.
Chinese traditional medication still uses tiger bones etc, to enhance potency and what more you have. This is an absolute NO-NO!
There is a big difference between these traditional healing systems and 'local' medicine, which is dubious and should be avoided at all times.
All traditional Asian medical systems identify a vital life force, and see blockage or imbalance as causing disease.
Techniques such as herbal medicines, massage and acupuncture are utilized to bring this vital force back into balance, or to maintain balance. These therapies are best used for treating chronic disease such as chronic fatigue, arthritis, irritable bowel syndrome and some chronic skin conditions.
Never use these types of medication in case of serious acute infections such as malaria, but go to a hospital.
VaccinationsTop
Specialized travel-medicine clinics are your best source of information.
The doctors will take into account factors such as past vaccination history, the length of your trip, activities you may be undertaking and underlying medical conditions, such as pregnancy.
Most vaccines don't produce immunity until at least two weeks after they're given, so visit a doctor four to eight weeks before departure.
Required Vaccinations
Yellow Fever
The only vaccine required by international regulations is yellow fever. Proof of vaccination will only be required if you have visited a country in the yellow-fever zone within the six days prior to entering Indonesia.
If you are travelling to Indonesia from Africa or South America you should check to see if you require proof of vaccination.
Recommended vaccinations by the World Health Organization (WHO) for South-East Asia:
Adult Diphtheria, Tetanus and Polio (DTP)
Single booster recommended if none in the previous 10 years.
Hepatitis A
Provides almost 100% protection for up to a year, a booster after 6 months provides at least another 20 years protection.
Hepatitis B
Now considered routine for most travellers. Given as three shots over six months. Lifetime protection occurs in 95% of people.
It is possible to combine the vaccination of Hepatitis A & B in one vaccine, Twinix.
Measles, mumps and rubella
Two doses of MMR required unless you have had the diseases. In Western Europe vaccinations are given at the age of 1-4-9 year, if these where given a booster is not necessary.
Rabies
Three injections in all. A booster after one year will then provide 10 years protection.
Normally only recommended for long-time travellers, but since there is an outbreak here on Bali we recommend this one to.
Typhoid
Recommended unless your trip is less than a week and only to developed cities. The vaccine offers around 70% protection, lasts for two to three years and comes as a single shot.
Varicella
If you haven't had chicken pox, discuss this vaccination with your doctor.
Recommended vaccinations for long-term travellers (more than one month) or those at special risk:
Japanese B Encephalitis,
Three injections in all. Booster recommended after two years.
Meningitis
Single injection. Recommended for long-term backpackers aged under 25.
Rabies
Three injections in all. A booster after one year will then provide 10 years' protection.
Tuberculosis
Adult long-term travellers are usually recommended to have a TB skin test (Mantoux-test) before and after travel, rather than vaccination. Only one vaccine given in a lifetime.
Disease & PreventionTop
Many discomforts or diseases can be prevented taken the right pre cautions, vaccination is one of them.
A couple of dangerous diseases are transmitted through mosquito-bites. travellers are advised to prevent mosquito bites by taking these steps:
-Use a DEET-containing insect repellant on exposed skin or a natural repellant like Citronella,
  but this must be applied more frequently than products containing DEET.
-Sleep under a mosquito net impregnated with Permethrin.
-Impregnate clothing with Permethrin in high-risk areas.
-Wear long sleeves and trousers in light colours.
-Use mosquito coils.
-Spray your room with insect repellant before going out for your evening meal.
Dengue fever
There is no vaccine available for this mosquito-borne disease therefore prevention by avoiding mosquito-bites.
The mosquito (principally Aedes aegypti) that carries dengue bites day and night.
There are 5 different types of this virus of which the Symptoms include high fever, severe headache and body ache (dengue was previously known as 'breakbone fever').
Some people develop a rash and experience diarrhoea. There is no specific treatment, just rest and paracetamol;
do not take aspirin as it increases the likelihood of haemorrhaging!
See a doctor to be diagnosed and monitored.
Chinkungunya
Disease with very similar symptoms as dengue fever and is also transmitted by the Aedes-mosquito.
Filariasis
A mosquito-borne disease that is very common in the local population, yet very rare in travellers.
The best way to prevent this disease is to prevent mosquito-bites.
Hepatitis A
A problem throughout the region, this food/water-borne virus infects the liver, causing jaundice (yellow skin and eyes), nausea and lethargy.
There is no specific treatment for hepatitis A; you just need to allow time for the liver to heal.
All travellers to Indonesia should be vaccinated against hepatitis A, especially when you want to enjoy local food like nasi Jinggo bought from a street vender.
Hepatitis B
The only sexually transmitted disease that can be prevented by vaccination, hepatitis B is spread by body fluids, including sexual contact.
In some parts of Indonesia up to 15% of the population are carriers of hepatitis B, and usually are unaware of this.
The long-term consequences can include liver cancer and cirrhosis.
Hepatitis E
This disease is transmitted through contaminated food and water and has similar symptoms to hepatitis A, but is far less common. It is a severe problem in pregnant women and can result in the death of both mother and baby.
There is currently no vaccine, and prevention is by following safe eating and drinking guidelines.
HIV
Indonesia used to be a relatively safe country with respect to HIV/AIDS, however, religious and cultural taboos have likely resulted in a systematic under reporting of the problem throughout the country.
According to UNAIDS between 600.000 and 790.00 people (2015 figures) are living with HIV in Indonesia, which has the fastest growing epidemic in Asia.
This number has risen sharply in recent years and is expected to increase if approaches to HIV prevention are not improved.
The rise is due to several factors including:
the country's extensive sex industry; limited testing and treatment clinics; a highly mobile population; a rapidly growing population of people who inject drugs and the denial of sexual health and reproductive services to unmarried people.
Travellers to should exercise caution and vigilance.
Japanese B EncephalitisTop
While this is a rare disease in travellers, many locals are infected each year.
This viral disease is transmitted by mosquitoes.
Most cases occur in rural areas and vaccination is recommended for travellers spending more than one month outside of cities.
There is no treatment, and a third of infected people will die while another third will suffer permanent brain damage.
Malaria
Some parts of Indonesia, particularly city and resort areas, have minimal to no risk of malaria, and the risk of side effects from the medication may outweigh the risk of getting the disease.
In most rural areas the risk of contracting the disease can be a real problem.
Bali has a minimal risk factor, accept for the little islands south-east; Lembongan, Ceningan and Penida.
Lombok, Sulawesi and Flores are substantial risk areas therefore medication is advised.

Malaria can be fatal so before you travel, seek medical advice on the right medication and dosage for you.
This disease is caused by a parasite transmitted by the bite of an infected mosquito,
the Anopheles gambiae, which is active during the night.
This is a different species then the one that caries the Chinkungunya and Dengue virus.
The most important symptom of malaria is fever, but general symptoms such as headache, diarrhoea, cough, or chills may also occur. Diagnosis can only be made by taking a blood sample.
Two strategies should be combined to prevent malaria;
mosquito avoidance and antimalarial medications.
In most cases people who catch malaria are taking inadequate or no antimalarial medication.
Measles
This highly contagious bacterial infection is spread via coughing and sneezing.
Most people born before 1966 are immune as they had the disease in childhood.
Measles starts with a high fever and rash and can be complicated by pneumonia and brain disease.
There is no specific treatment.
Rabies
This potentially fatal disease is spread by the bite or lick of an infected animal most commonly a dog, cat , bat or a monkey.
You should seek medical advice immediately after any animal bite and commence post exposure treatment.
Having pre-travel vaccination means the post bite treatment is greatly simplified.
If an animal bites you, gently wash the wound with soap and bottled water, and apply iodine-based antiseptic.
If you are not pre vaccinated you will need to receive rabies immunoglobulin as soon as possible.
Schistosomiasis
Schistosomiasis is a tiny parasite that enters your skin after you've been swimming in contaminated water, travellers usually only get a light infection and hence have no symptoms. If you are concerned, you can be tested three months after exposure.
On rare occasions, travellers may develop 'Katayama fever'.
This occurs some weeks after exposure, as the parasite passes through the lungs and causes an allergic reaction; symptoms are coughing and fever.
Schistosomiasis is easily treated with medications.
Sexually transmitted diseases
These include herpes, warts, syphilis, gonorrhoea and chlamydia. People carrying these diseases often have no signs of infection.
Condoms will prevent gonorrhoea and chlamydia but not warts or herpes.
If after a sexual encounter you develop any rash, lumps, discharge or pain when passing urine seek immediate medical attention. If you have been sexually active during your travels have an STD check on your return home.
TuberculosisTop
While rare in travellers; medical and aid workers, and long-term travellers who have significant contact with the local population should take precautions.
Vaccination is usually only given to children under the age of five, but adults who might be at risk are recommended
pre- and post-travel TB testing.
The main symptoms are fever, cough, weight loss, night sweats and tiredness.
Typhoid
This serious bacterial infection is also spread via food and water.
It gives a high and slowly progressive fever, headache and may be accompanied by a dry cough and stomach pain. Typhoid is diagnosed by blood tests and treated with antibiotics.
Vaccination is recommended for all travellers spending more than a week in Indonesia, or travelling outside of the major cities.
Be aware that vaccination is not 100% effective so you must still be careful with what you eat and drink.
Typhus
Murine typhus is spread by the bite of a flea whereas scrub typhus is spread via a mite.
These diseases are rare in travellers. Symptoms include fever, muscle pains and a rash.
You can avoid these diseases by following general insect-avoidance measures.
Doxycycline (phototoxic so you need to prevent sun exposure!) will also prevent them.
Traveller's diarrhoea
Traveller's diarrhoea is by far the most common problem affecting travellers.
It is a good idea to start with taking a lot of water with charcoal tablets:
NORIT is a vegetable product with a large internal surface.
It is capable to adsorb toxic substances present in the gastrointestinal tract and it is therefore an excellent remedy against acute diarrhoea.
When this does not help seek medical help since a bacteria infection responds to treatment with antibiotics. In over 80% of cases, traveller's diarrhoea is caused by a bacteria.
Treatment with antibiotics will depend on your situation, how sick you are, how quickly you need to get better, where you are etc. Treatment consists of staying well hydrated; rehydration solutions like Gastrolyte are the best for this.
Seek medical attention quickly if you do not respond to an appropriate antibiotic.
This all might be avoided by safe eating and drinking guide-lines:
Eat only freshly cooked food, and avoid shellfish or food that has been sitting around in buffets.
Peel all fruit, and eat in busy restaurants with a high turnover of customers.
Other discomfortsTop
There are a couple of things you should take in consideration while travelling or relaxing in Indonesia.
The sun can be a major hazard, and if not treated with some respect, can ruin part of your holiday.
Rabies is present throughout Indonesia, including on the resort island Bali.
Avoid touching animals during your stay, unless you are certain this is a vaccinated pet.
Then there are some insects and other animals that should be treated carefully or, if possible, avoided.
Dehydration
This occurs many times, because people forget that they need to drink a lot of water in the Tropics.
The reason is obvious in this climate, especially the first days, you will sweat a lot and therefore lose fluids and minerals.
Coffee, thee and alcohol have the tendency to dehydrate. You can drink them, but it is advisable to drink the same amount of water next to those beverages.
Take it easy when you first arrive. People with dehydration can have headaches, nausea and dizziness. It is not advisable to take salt tablets, because they might upset your stomach, instead drink a rehydrated solution or eat salty food with plenty to drink. Dehydration is the main contributor to heat exhaustion.
Sunburn
This is so easy to avoid, but people forget that even on a cloudy day the UV-rays are there.
On your first days in Indonesia you should use sunscreen with a factor of at least 30-SPF (Sun Protection Factor) and water-proof / resistant.
Avoid the full sun between 10am and 2pm and wear a hat and sunglasses. If you become sunburnt nonetheless stay out of the sun until you have recovered, apply cool compresses and take painkillers for the discomfort. One per cent hydrocortisone cream applied twice daily is also helpful.
Insect bites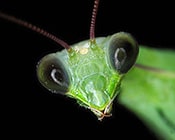 Insect bites can be avoided using repellants and checking the mattress were you are sleeping on.

If you have an itchy bite, make sure you put something on it (vasseline or tygerbalm) to close the wound off from the outside world, this will hopefully prevent infection.
Bedbugs don't carry disease but their bites are very itchy. You can treat the itch with an antihistamine.
Ticks are contracted after walking in rural areas.
Ticks are commonly found behind the ears, on the belly and in armpits.
If you have had a tick bite and experience symptoms such as a rash at the site of the bite or elsewhere, fever, or muscle aches you should see a doctor.
Doxycycline prevents tick-borne diseases like Lyme, but these medicines are phototoxic so you need to prevent sun exposure!
Leeches are found in humid rainforest areas.

They do not transmit any disease but their bites are often intensely itchy for weeks afterwards and can easily become infected.
Apply an iodine-based antiseptic to any leech bite and after that put vasseline or another balm on it to close it from the outside world.
Bee and wasp stings mainly cause problems for people who are allergic to them.
Anyone with a bee or wasp allergy should take antihistaminica as prevention and the people with a SERIOUS allergy should carry an injection of adrenaline for emergency treatment.
For others pain is the main problem; apply ice to the sting and take painkillers.
Jellyfish
Most jellyfish in the Indonesian waters are not dangerous, just irritating.
First-aid for jellyfish stings involves pouring vinegar onto the affected area to neutralise the poison.
Do not rub sand or water onto the stings.
Take painkillers, and anyone who feels ill in any way after being stung should seek medical advice.
Take local advice on whether there are dangerous jellyfish around and, if so, keep out of the water. The Box Jellyfish is not usually found around coral reefs or where there is a lot of sea plant life.
Generally it isn't found where Scuba divers like to be!
It is found in open coastal waters and particularly in estuaries and river mouths after rains. They avoid rough and deep water moving inshore with rising tides.
Their peak season is the wet season but is also found throughout the year.
Snakes in IndonesiaTop
In Indonesia there are around 460 snake species to be found, of course not all of them are dangerous for humans.
The nonvenomous constrictors are considered not to be dangerous for humans, although last December 2013 in Bali a freak accident occurred. A security guard tried to capture a 3 metre long Python, he managed to secure the snake's head and tail and put it on his shoulders, but the python wrapped itself around his body and strangled him to death. Very unfortunate, but also a very stupid action of this man.
A snake encounter is not likely when you are staying in Bali in a developed resort environment; most of them are nocturnal and most of them will flee when people approach.
Encounters can be avoided by not walking barefoot at night in dark, swampy or bushy areas.
For the snake lovers who visit Bali, there are special tours done by Bali Reptile Rescue which we can organize for you.
In the unlikely event that you encounter a snake while on hoiday in Bali call Bali Reptile Rescue: +62 (0)821 4638 0270. They will come, catch the snake and release it where it is harmless to people.
Dangerous venomous snakes of Indonesia come in all shapes and colours and include some very common species.
They can vary in appearance within a species depending on age, habitat and moulting stage.
Unfortunately high numbers of snakes are killed in Indonesia when people see them; also species that are totally harmless.
Just to give you an idea of the dangerously venomous snakes in Indonesia we will describe a couple whom you might
(highly unlikely if you are not hiking, diving and specifically looking for them) encounter.
They are mainly from three families:
- Family Elapidae:Top
While most snakes are not hazardous to humans, several lineages have evolved venom which is typically delivered by specialized teeth called fangs located on the maxilla.
This family has mainly neurotoxic venom and are all potentially deadly venomous snakes.
Most snakes can be placed into one of four groups, based on their teeth, which correlate strongly with venom and lineage.
Elapids are Proteroglyphous - forward grooved - snakes;
they have a shortened maxillae bearing few teeth except for a substantially enlarged fang pointing downwards and completely folded around the venom channel, forming a hollow needle.
The fangs are short even in the largest species that's why they must hang on, at least momentarily, as they inject their venom.
Some spitting cobras have modified fang tips allowing them to spray venom at an attacker's eyes.
* Cobras :
3 species in Indonesia
Although the bites of some species are extremely dangerous, cobras of any kind have not been shown to attack people unprovoked, and practically never without a threat display, typically raising the hood and hissing.
They will rise to defend themselves and are capable of delivering large amounts of deadly neurotoxic venom through either a venomous spray aimed at the eyes, causes blindness, or envenomation by fang bite.
Cobras are both nocturnal and diurnal creatures. Cobra envenomation is severe, often fatal and should be treated by medical professionals who normally administer cobra antivenom inoculations.
A good defence against a cobra for anyone who accidentally encounters this snake is to slowly remove a shirt or hat and toss it to the ground while backing away.
Javan spitting cobra - Naja sputanix
This species is native to the Indonesian islands of Java and the Lesser Sunda Islands of Bali, Lombok, Sumbawa, Komodo, Flores, Lomblen, and Alor.
Heavy-bodied with an average length of 1.3 metres, which, like other cobras, has long cervical ribs capable of expanding to form a hood when threatened.
Found mostly in tropical forests and wet forest, but the species adapts incredibly well to a wide variety of habitats across its range on the islands, including more arid regions, dry woodlands, and cultivated hill country.
It is a terrestrial snake that's nocturnal in nature. Naja sputatrix is very defensive and readily spits out venom when it feels threatened.
Equatorial spitting cobra - Naja sumatrana
In Indonesia this species is to be found in Sumatra, Borneo, Bangka, Belitung, the Riau Archipelago and possible a remnant populations in western Java.
They have an average length between 0.9 to 1.2 metres and can be found in elevations up to about 1,500 metres above sea level in mainly tropical forests. However, it has also been found in gardens, parks, and in urban areas where it may come in contact with humans.
It is a terrestrial and mainly diurnal snake that feeds on rodents and frogs, but will also feed on other snakes, lizards and small mammals.
Though not aggressive in nature, these snakes can and will readily spit venom when they are cornered or threatened. They will also strike and bite.
King cobra - Ophiophagus hannah
The king cobra is distributed across the Indian Subcontinent, Southeast Asia, and the southern areas of East Asia. It lives in dense highland forests, preferring areas dotted with lakes and streams.
The king cobra is the world's longest venomous snake, with a length up to 5.6 to 5.7 metre.
Despite the word "cobra" in its name, this snake is not a member of Naja, "true cobras", but belongs to its own genus.
King cobras are able to hunt throughout the day, and it is rarely seen at night, leading most herpetologists to classify it as a diurnal species.
Unique to the king cobra the presence of a pair of large scales known as occipitals, at the back of the top of the head.
* Kraits :Top
3 species in Indonesia
Bungarus, commonly referred to as kraits, is a genus of venomous elapid snakes found in South and Southeast Asia.
They have highly potent neurotoxic venom which can induce muscle paralysis. Polyvalent Elapid Antivenom is effective in neutralizing the venom of the 3 species described below.
All kraits are nocturnal. They are more docile during the daylight hours; at night, they become very active, but are not very aggressive even when provoked.
They are actually rather timid, and will often hide their heads within their coiled bodies for protection.
When in this posture, they will sometimes whip their tails around as a type of distraction.
Banded Krait - Bungarus fasciatus
Their range in Indonesia are the islands of Borneo, Java and Sumatra and have an average length of 1.8 metre with a maximum of 2.3 metre.
They occupy a variety of habitats including forests, agricultural and coastal areas.
It is often encountered close to water bodies and feeds on other vertebrates including rodents, lizards and other snakes.
Therefore often live near human settlement, especially villages, because of their supply of rodents and water.
Red-headed Krait - Bungarus flaviceps
In Indonesia they occur in the islands of Sumatra, Bangka, Borneo and Java.
A rare species which inhabits forested lowlands, hills and lower mountain areas.
Their diets consists of snakes, skinks, lizards, frogs, caecilians, small mammals, and snake eggs.
It can reach a maximum length of 2.1 metres and has a black or bluish-black body and a bright red head, sometimes orange or yellow, and this colour extends slightly onto the neck.
The short tail is also bright red, which is triangular in cross-section.
It's nature is inoffensive, and captives will generally refuse to strike until they have been subjected to prolonged teasing.
Malayan or blue Krait - Bungarus candidus
In Indonesia their range include the islands of Bali, Borneo, Java and Sumatra and can reach a total length of 1.08 metre, with a tail 16 cm long.
They have a variety of habitats including forests, agricultural and coastal areas; often close to water bodies. It feeds on other vertebrates including rodents, lizards and other snakes.
Sightings are rare and, although highly venomous, it does not have an aggressive temperament by day.
At nights it is more active and potentially more dangerous.
* Coral snakes :Top
2 species in Indonesia
This large group of elapid snakes are subdivided into two distinct groups, Old World and New World coral snakes.
The two species found in Indonesia are from the Old World coral snakes from the genus Calliophis.
The two species described will defend themselves by displaying their brightly coloured body.
They are, just like the Kraits, timid snake species which tends to avoid confrontation.
Banded Malayan Coral Snake - Calliophis intestinalis
In Indonesia it is found in Bali, Java, Sumatra and Borneo.
It inhabits forests areas, and sometimes overgrown areas of parks and gardens.
A ground dwelling specie which feeds mainly on other snakes, particularly the tiny Brahminy blind snake.
This small species possesses a potent venom, and human fatalities from its bite have been recorded.
When threatened, the snake turns over to reveal the underside, which is is dramatically patterned in black and white.
Blue Malayan Coral Snake - Calliophis bivirgatus
This specie is found in Indonesia in Java where it inhabits primary and secondary forest, lowland and lower mountain areas.
Its primary food source are other snakes.
This beautiful snake is instantly recognizable by its red head, tail and belly.
It dwells amongst the leaf-litter on the forest floor, but seems to emerge early to mid-morning especially when night-time rain has made the leaf litter wet.
This snake generally flees when disturbed, but at other times may remain coiled on the ground with its tail erect as a warning.
* Sea snakes :
more than 20 species in Indonesia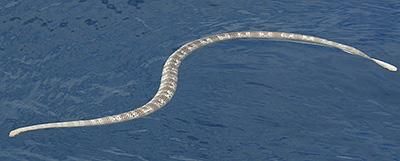 Also known as Hydrophiinae a subfamily of venomous elapid snakes that inhabit marine environments for most or all of their lives.
They are found in warm coastal waters from the Indian Ocean to the Pacific Ocean. Close cousins to the land kraits and cobras, sea snakes have the same type of neurotoxic venom, only much more potent.
Among this group are species with some of the most potent venoms of all snakes.
This venom contain neurotoxins which act on the nerve cells of the victim, paralyzing the respiratory system and ultimately causing death.
Sometimes the venom also contains myotoxins which affect the skeletal muscles.
Some have gentle dispositions and bite only when provoked, but others are much more aggressive. All have paddle-like tails and many have laterally compressed bodies that give them an eel-like appearance.
The majority of adult Hydrophiinae species grow to between 120 and 150 cm in length. Unlike fish, they do not have gills and must surface regularly to breathe.
Currently, 17 genera are described as sea snakes, comprising 62 species.
Most Hydrophiinae are extensively adapted to a fully aquatic life and are unable to move on land due to the lack of ventral scales. Becoming ovoviviparous - which means they give birth to live young - freed them entirely from the need to return to land to breed.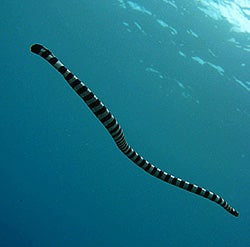 The exception is formed by the Genus Laticauda or sea kraits.
They still retain ancestral characteristics, allowing limited land movement.
Sea kraits are the least adapted to sea life of all the members of Hydrophiinae.
Genus Laticauda or sea kraits differences:
- they are oviparous, and they return to land to mate and lay eggs
- they retain the wide ventral scales typical of terrestrial snakes
- they have poorly developed tail fins
- they are adapted to living on land and in shallow seas
- Family Viperidae:Top
There are four subfamilies currently recognised; two of them the Crotalinae and Viperinae, which we will describe, are endemic to Indonesia.
They are Solenoglyphous - pipe grooved - snakes;
Viperidae have the most advanced venom delivery method of any snake.
Each maxilla is reduced to a nub supporting a single hollow fang tooth. The fangs, which can be as long as half the length of the head, are folded against the roof of the mouth, pointing posteriorly.
They can open their mouths almost 180 degrees, and the fangs swing into a position to allow them to penetrate deep into the prey.
While viperidae venom is typically less toxic than that of Elapidae, this system allows them to deeply inject large quantities of venom.
Viperid venoms contain an abundance of proteases, hence the name Proteolytic venom, that produce following symptoms: pain, strong local swelling and necrosis, blood loss from cardiovascular damage complicated by coagulopathy, and disruption of the blood clotting system.
Death is usually caused by collapse in blood pressure.
In contrast to elapid venoms that contain neurotoxins which disable muscle contraction and cause paralysis.
Death from elapid bites usually results from asphyxiation because the diaphragm can no longer contract.
However, this rule does not always apply: some elapid bites include proteolytic symptoms typical of viperid bites, while some viperid bites produce neurotoxic symptoms.
Proteolytic venom is also dual-purpose:
firstly, it is used for defense and to immobilize prey, as with neurotoxic venoms;
secondly, many of the venom's enzymes have a digestive function, breaking down molecules in prey items, such as lipids, nucleic acids, and proteins.
This is an important adaptation, as many vipers have inefficient digestive systems.
* Viperinae - true or pitless vipers :
1 species in Indonesia
From this subfamily only one genera, Daboia, is endemic in Indonesia.
There are two subspecies:
Daboia russelii russelii and Daboia russelii siamensis.
The last one, commonly known as Siamese Russell's viperis, is endemic in Endeh, Flores, east Java, Komodo, and the Lomblen Islands.
They are ovoviviparous - which means they give birth to live young - and have an average length of 120 cm.
The differences between the various species and populations of Russell's vipers is not limited to their molecular phylogenies or simple features like patterning, they also exhibit considerable variation in venom composition.
They are distinguished by their lack of the heat-sensing pit organs that characterize their sister group, the subfamily Crotalinae. Instead the Daboia have a supernasal sac with a sensory function.
This irritable snake preys essentially on rodents but will also kill cats, squirrels, crabs, and even scorpions.
When threatened it will coil tightly, hiss, and strike with such speed that its victim has little chance of escaping.
Its haemotoxic venom is a powerful coagulant, causing pain, swelling and bleeding, as well as decreased blood pressure and heart rate.
It is responsible for more human fatalities than any other venomous snake, because of their wide distribution and frequent occurrence in highly populated areas.
* Crotalinae - pit vipers :Top
many species in Indonesia
Like most snakes, crotalines keep to themselves and will strike only if cornered or threatened.
With few exceptions, crotalines are ovoviviparous, that is, females give birth to live young.
Among the oviparous (egg-laying) pit vipers are Lachesis, Calloselasma, and some Trimeresurus species; all egg-laying crotalines are believed to guard their eggs.
They are distinguished by the presence of a heat-sensing pit organ located between the eye and the nostril on either side of the head.
This organ inside the snake's head helps the animal sense and locate warm-blooded prey.
From this subfamily three generae are found in the Indonesian archipelago:
Genus Ovophis - 2 species in Indonesia:
Ovophis chaseni or Chasen's mountain pit viper in Borneo and the Ovophis monticola or mountain viper found in Sumatra.
Genus Calloselasma - monotypic (only one representative):
Calloselasma rhodostoma or Malayan pit viper found in Java, Sumatra and Borneo.
Prefers coastal forests, bamboo thickets, unused and overgrown farmland, orchards, plantations as well as forests around plantations.
Genus Trimeresurus - 11 species in Indonesia:
Too many to describe so here we will focus on 1 species:
- Wagler's or Temple pit viper - Trimeresurus wagleri
Endemic in parts of Indonesia including Sulawesi, Sumatra, adjacent smaller islands and the Riau Archipelago. Found in lowland forest, mangrove and in some coastal regions.
Their diet consists of rodents, such as arboreal rats, and birds.
Individuals may remain on the same branch for many days, either as they digest a recent meal, or as they lie in wait for their next meal.
They are ovoviviparous and nocturnal animals.
Pit vipers are all venomous, however Wagler's Pit Viper is generally not considered to be aggressive.
In the field, these snakes are most easily identified by their markedly triangular head.
- Family Colubridae:Top
With 304 genera Colubridae is the largest snake family, and includes about two-thirds of all current snake species.
Most colubrids are non-venomous, or have venom that isn't known to be harmful to humans, and are normally harmless.
Some colubrids are Opisthoglyphous - rearward grooved - snakes;
meaning that they have elongated, grooved teeth, located in the back of the upper jaw. These are unlike those of vipers and elapids that are located in the front.
A few groups, such as genus Boiga, can produce medically significant bites, so we will describe this genus.
* Boiga - Cat snakes
Cat snakes are long-bodied snakes with large heads and large eyes and are all oviparis.
Their venom toxicity varies from species to species, but is not generally considered to be life threatening to humans.
Primarily found throughout southeast Asia, India and Australia, but due to their extremely hardy nature and adaptability have spread to many other suitable habitats around the world.
From this genus there are 13 species, excluding some subspecies, in Indonesia. We will only describe the brown tree snake, because of its is aggressive nature and can therefore be dangerous for children.
Brown tree snake - Boiga irregularis
This species is to be found in East Indonesia from Sulawesi to Papua.
A generalist feeder known to eat a wide variety of foods, when threatened is highly aggressive and tends to lunge and strike the aggressor repeatedly.
With elongated, grooved teeth, located in the back of the upper jaw the snake's mouth must be opened as wide as possible to insert and expose their fangs.
A chewing movement is used by the snake to inject the venom.
The venom, used to subdue and kill prey, is not considered dangerous to adult humans.
Snake-bitesTop
All snakes will bite when threatened or surprised, but most will usually avoid people if possible and only bite as a last resort.
Most species of snake are harmless and many bites are not life-threatening, but unless you are absolutely sure that you know the species, treat it seriously.
Snake bites can be deadly if not treated quickly.
Children are at higher risk for death or serious complications due to snake bites because of their smaller body size.
The right antivenom can save a person's life. Getting to an emergency room as quickly as possible is very important.
If properly treated, many snake bites will not have serious effects.
Snake bite symptoms
Symptoms of snake bites are dependent upon the type and size of the snake, the location of the bite on the body, and the age, size, and health of the victim.
Children are more likely to have severe symptoms because they receive a larger concentration of venom due to their smaller body size.
Also, not all snake bites involve the discharge of venom into the victim; known as evenomation.
At least 25% of poisonous snake bites do not result in evenomation.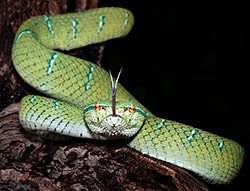 Pit viper bites, family Viperidae, often show two characteristic fang marks at the site of the bite.
* Heamotoxic venom symptom's:
intense pain within five minutes at site of the bite
swelling at site of the bite
weakness
rapid pulse
numbness
tingling sensations
bruising
bleeding disorders
vomiting
an unusual metallic taste
confusion
Bites from family Elapidae are neurotoxic. Neurotoxic venom may result in minimal pain and no visible marks, due to smaller fangs, on the skin.
* Neurotoxic venom symptom's:
minimal pain and no visible marks
local numbness
ptosis - drooping of the eyelid
dysphagia - difficulty swallowing
diplopia - double vision
sweating
excessive salivation
a decrease in reflexes
respiratory depression
paralysis

First aidTop
There have been many snake bite remedies offered over the years. Recent studies have concluded that the following protocols are best:
step 1:
Stay calm, get safely away from the snake, and have someone call one the following emergency numbers (in Indonesia):
Ambulance: 118
Indonesian Tocixity Centre: +62(0)21 425 0767 or +62(0)21 422 7875
Red Cross Indonesia: +62(0)21 420 7051
The less the victim moves the bitten site, the less likely the venom will be spread through the body and cause damage.
step 2:
Have the victim lie down with the affected limb lower than the heart. Keep the limb immobilized. If practical, splint the limb.
step 3:
Treat for shock and preserve body heat.
step 4:
Remove any rings, bracelets, boots, or other restricting items from the bitten extremity. It WILL swell!
step 5:
Apply a light constricting band about 5cm above and below the bite, however never place the bands on either side of a joint, such as above and below the knee or elbow.
This band should be made up of wide, soft material, which could be a handkerchief or shredded clothing.
The band should only be as tight as the band the nurse applies when taking a blood test.
NOTE: The purpose of constricting bands is to restrict lymphatic flow, not blood, so they should not be too tight.
Check pulses below the bands and readjust the bands as necessary when they tighten due to swelling.
step 6:
Although adviced to wash the bite with water and soap, better NOT wash the bite if you do not know which snake caused the bite!
Venom on the skin this can help find out which snake caused the bite.
step 7:
If the victim has to walk out, sit calmly for 20-30 minutes to let the venom localize at the site, then proceed calmly to the nearest source of help and try to avoid unnecessary exertion which will stimulate circulation of the venom.
Get the victim to definitive medical care for antivenom, which will provide the greatest relief from the toxic effects of the bite.
* Actions to avoid:
-DO NOT cut the bite. The additional tissue damage may actually increase the diffusion of the toxins throughout the body.
-DO NOT apply a tourniquet. Such action can result in the loss of the limb.
-NEVER try to suck out the venom by mouth.
You can try the suction cup in a snakebite kit if it doesn't delay other needed treatment.
If you have a pump suction device (such as that made by Sawyer), follow the manufacturer's directions.
However suctioning seldom provides any measurable advantages.
-DO NOT apply cold and/or ice packs. Recent studies indicate that application of cold or ice makes the injury much worse.