Arrival in Bali - pick up from airport by our car to transfer you to the hotel. This hotel is very close to the beach in the centre of Kuta..
This day is to acclimatize and relax...
Another relax day to make sure that you are well rested and acclimatized before going to Flores.
You will be transferred to the airport by our car around 11am; the flight leaves early afternoon.
Around 3pm you arrive in Labuan Bajo where a car from the hotel takes you to your destination.
The hotel is situated at the sea just outside Labuan Bajo.
There is transport available to take you to the city centre and back.
After breakfast you will go by car to the dive operator and start your first day of boat diving including soft drinks and lunch on board.
Day trips to the dive sites near Labuan Bajo takes between 45 minutes and 2 hours depending on the location. You will be back in the afternoon.
This example is based on day trip diving around North Komodo, but we can also arrange a 3 or 4 days dive safari where you will be diving West of Flores, the Komodo dive sites.

After an early breakfast you will go by boat to Komodo island and make 2 dives during this trip.
You will have a guided tour around Komodo island; do not forget your camera.
Arrival time Labuan Bajo harbour will be around 5pm where your transport is waiting to bring you back to the hotel.
After breakfast you will be off to the harbour to do your last day of diving here.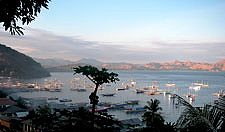 This day you can prepare for your 4 days land tour from Labuan Bajo to Maumere.
You want to be sure you have enough cash to carry around during this tour; hotel and breakfast and the tour itself are included, but not drinks, lunch and dinner expenses.
There are ATM's in Labuan Bajo.
After breakfast pick-up by the guide with car to start your overland tour.
The first day your trip is from Labuan Bajo, via scenery landscapes and traditional villages, to Ruteng where you spend the night in a hotel (former monastery).
After breakfast you will first make a stop at lake Ranamese and via Aimere to Bajawa. Aimere is famous for Arak (palm wine) production.
After lunch in Bajawa you will visit the hot springs near So'a and take a bath there.
You will spend the night in Bajawa.
During your tour you will pass the blue stone beach from Penggajawa to Moni where you spend the night.
You will visit, either very early in the morning or during the day, the Kelimutu crater lakes, famous for their 3 different colours.
Depending on the time you leave you will arrive in the afternoon at your dive resort in Waiara at the beach.
You will stay here for 5 nights in a beach front suite. This dive resort has no pool, but the sea is just out there.
The dive centre is in the resort so you can decide on the schedule together with the dive master for the coming 3 days. You will make 2 boat dives per day.
The hotel is situated on a long stretch of beach.
The car from he resort will bring you to the airport and you will arrive in Bali at 9.40am where you will be picked up by our driver to take you to your hotel in Sanur at the beach.
Relax and enjoy Sanur beach.
Our driver will pick you up to take you to the airport.
---
Please contact us when you are interested in this trip or any of the other example holidays:
The last menu option, contact us, contains an enquiry-form. Here you can indicate what you like to do during your holiday and send this to us.
From there, through two-way communication, we hopefully come to a final holiday schedule.
We have created this example holiday in 2012. Now August 2018 - Flores is attracting more tourisme and the surroundings of Labuan Bajo are more crowded. Especially during the high-season periods: end June-July-August and half December until half January.