In this holiday we use the Open Water Dive course as an example, but you can do any of the other dive courses mentioned on dive courses where you want

Arrival Bali - pick up by our car to your accommodation in Kuta close to the beach.
This day is to acclimatize and relax...
Pick-up after breakfast by our driver to Amed.
On your way you will visit the holy Pura Goa Lawah and the beautiful Water palace Tirta Gangga.
After 3 hours from departure Kuta check in at the hotel in Lipah bay, where you will stay for another 5 days.
After breakfast you will meet the instructor and start the OWD dive course dive course; see Dive courses where you want.
In consultation with your Instructor you decide the program for the rest of the course. There will be classroom sessions, introduction videos and oral and written exams in the coming days.
Depending on your performance and achievements the course can take up to 5 days!
These days you will be busy with your dive course.
This day can be a total relax day if you are a qualified Open Water Diver (hopefully without hangover) or you will do the final exams today!
Lunch and dinner where ever you want.
After so much hard work and staying immediately at the sea it is time to have a change of scenery!
Our driver will pick you up after breakfast and will take you for a beautiful tour through mountainous and rural Bali to the ancient temple of Gunung Kawi (11th century AD).
Around 3pm you will check in your hotel which is situated in the "jungle"; the tropical forest of the Petanu Valley.
After breakfast a guide of the hotel will take you on a very special trek; starting at the hotel's spice and medical herb gardens and through the tropical forest to the 1,2 km underground labyrinth with its unique Goa Maya Cave.
This trekking includes the lunch which you will enjoy at the hotels restaurant. In the afternoon you might want to take a massage at the Spa and have dinner at the hotel.
Our driver will pick you up at a descent time to bring you to your next destination, Ubud, the art center of Bali. The road to Ubud will take you past Tampaksiring, which has a lot of little shops and beautiful rice field views.
Depending on how many stops you make; the trip takes 1 - 3 hours to your hotel on Monkey forest road.
The hotel is centrally located for a visit to the Monkey forest, to go shopping, visit the palace, go to nice bars and restaurants, see a Balinese dance performance what ever you want to do.
This is Ubud day.
This morning you will go for some action; Rafting!
After breakfast you will be picked-up by the driver of the rafting company who will take you to the starting point on the Ayung river.
Don't be alarmed this is an easy raft with the emphasis on enjoying the beautiful nature, but at the end of the ride it will take some stamina to conquer a great number of steps up to where your reward awaits you, a nice Indonesian lunch!
You will be back at the hotel around 1.30pm.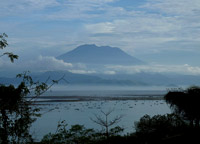 After breakfast you will be picked up by a car at 9.30am, to Sanur harbour where the boat to Nusa Lembongan departs.
You will arrive around 12.05pm at the Nusa Lembongan beach where you will meet the people from the dive shop.
After planning your dive schedule for your next days, someone will escort you to your resort at Selambung beach also called Coconut beach, with amazing views of the famous
Gunung Agung.
This is the day you will make your first boat dive as a certified Open Water Diver.
You will make 2 easy dives with a professional dive master and have lunch and some time to relax on board.
Depending on the time of year you will be back around 2-3pm which leaves plenty of time to do some exploring or just relax at the pool.
Your second day diving might be somewhat more challenging, but that's up to you and the dive master.
There are lots of beautiful dive sites around these islands:
see Nusa Lembongan and see Nusa Penida.
After diving there will be time to do what ever you like, play pool, explore or relax.
Depending on the weather conditions this day or tomorrow you will go to Manta Point and Cristal Bay. Manta point will give you a 99.9% chance to see a manta Ray.
After diving have fun on the island and enjoy the beautiful sunset.
Make sure you make this a great diving day, just ask the dive master where to go!
After diving relax and enjoy your last night on this nice island.
Enjoy your breakfast and check out of the hotel; the boat to Sanur leaves at 11.45am and from there a company car will take you to your boutique hotel in Kuta.
Time to relax and enjoy your last days in Bali.
Our driver will pick you up to take you to the airport.
---
Please contact us when you are interested in this trip or any of the other example holidays:
The last menu option, contact us, contains an enquiry-form. Here you can indicate what you like to do during your holiday and send this to us.
From there, through two-way communication, we hopefully come to a final holiday schedule.
We have created this example holiday in 2012. Now 2018: be aware that Bali has become way more popular and is therefore more crowded, especially during the high-season periods: end June-July-August and half December until half January.