Activities in Bali
Next to diving there are lots of other activities that can be done on Bali. On the map below we have used symbols to indicate the kind of activity found there.
The explanation of the symbols are in the left side-bar and include golfing, trekking, surfing, rafting, horseback riding and touring with a bicycle. As you can see there is enough to do around Bali for all!
All the activities mentioned can be arranged by us in advance, including accommodation at the different locations.
For overnight stays or longer we have a special selection of small authentic hotels, and for the golf loving people we can arrange a custom made golf holiday in Bali.
Move your cursor over the map to jump to the indicated topic :
Golf courses around Bali
In recent years a few new golf courses have emerged on this island, next to the existing ones, which brings the total golf courses on Bali to 5.
We can arrange a custom made golf holiday Bali for you, and even when you did not bring your clubs you can rent a set at any of the courses below as well as join their lessons, which Bottles-Up can arrange for you.
Nirwana golf course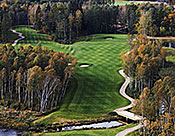 This course has 18 challenging holes sitting on Bali's Indian Ocean coast. Designed by the famous golfer Greg Norman, this 71 par golf course is one of Asia's most visually spectacular courses with holes carved through rice paddies, over creeks with three holes played along the cliffs overlooking
the Indian Ocean.
On the 7th hole it offers a view on the sacred Hindu sea temple of Tanah Lot.
Bali National Golf Resort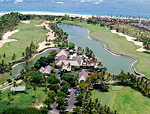 Located in the vicinity of luxury tourist resorts in Nusa Dua, former BGCC opened on March 4, 1991 and has re-opened under the new name Bali National Golf Resort in 2013 after renovation.
This golf course, with such a heritage, was in need for redesign and modernization.
The Bali National Golf Resort now features new Paspalum turf, with scalloped bunkering lining most fairways and elevated greens.
Many of the newly routed holes have lengthened to championship distances as the course now plays to over 7100 yards from the tips.
Bali Handara Kosaido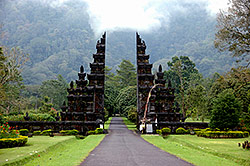 Bali Handara Kosaido is the oldest golf course in Bali as well as Indonesia. This is the only golf course in Asia with its location set in an extinct volcano.
Nestled 1,142 meters above sea level, the Bali Handara Kosaido Country Club offers a 72 par, eighteen hole championship course surrounded by lush tropical rain forest near vertical crater walls clad in vegetation.
The Handara is a deceptively difficult course.
There are plenty of bunkers, lakes and other water hazards to get you into difficulty. Clouds are common in the afternoon, so the morning is the perfect time to start your game here.
Bali Beach golf course
Located at Jalan Hangtuah - Sanur, it is set in an environment of very mature, tall trees and has been given a face lift with the introduction of lakes, mounding and features, including newly designed and constructed greens all of which add to the aesthetic beauty of the course.
The Bali Beach Golf Course has 9 holes that will provide challenges to all golfers of all skill levels.
New Kuta golf course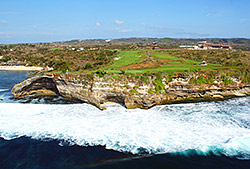 Brand new golf course situated on the cliffs of Bali's Bukit Peninsula and overlooking the rolling blue surf of the vast Indian Ocean in the area formerly known as "dreamland".
This eighty-five hectare golf course, designed by Ronald Freeman, has 18 holes and is part of a huge development which is branded the "new Kuta".
The whole 400 hectare project boasts, apart from the golf course, a new resort above the beach area, a convention centre, restaurants, a health service centre and an international school as well as privately owned villas.
Surfing around Bali
Swells come in from the Indian Ocean so the best waves can be found on the Southern side of the island.
Depending on were the trade winds come from the best surfing on the West coast is between July and September and shift around the Southern peninsula towards Padangbai for the other months.
The Kuta bay has a sandy bottom and is therefore perfect for learning how to surf or when you're satisfied with less thrilling rides.
Boards and shirts can be rented on the beach at the numerous surf stands.
Here are enough local surf wizards around who are able to teach the basic surfing positions.
There are also numerous more "organized" surf schools were you join a group and will get a fancy shirt, a surfboard and the additional drinks, towels and what more you have.
Around the Southern peninsula the waves are rolling longer and are year round good, but are generally considered for the more eperienced surfers because of the shallow coral sea bottom towards the shore.
This area is the Mecca of surfing in Bali together with G-land on Java, the Southern coast of Lombok and Sumbawa.
Trekking around Bali
Long walks without seeing anybody, apart from the West Bali National Park, is not possible on this island of more than 3 million people. However it does offer some really good walks in beautiful forests and through rice fields where you can have a good idea what life in a traditional Bali village is like.
Most of the good hikes are there where nature is still more or less in control which means up in the mountains.
Somewhat more physical challenging but the upside is that its usually a lot cooler and you have the views.
Trekking around Munduk
Munduk, at an elevation of around a 1000 meters above sea level, is a fantastic place to spend a night or two and enjoy the fresh mountain air during one of the many walks you can do.
It has the whole range of what trekking and hiking in Bali is all about.
There are 3 waterfalls around and you can hike to 2 of them with a guide or by yourselves.
We can arrange some guided tours for you in this area filled with clove, cacao and coffee plantations.
Watching the sun rise over the mountains from the porch of your veranda in Munduk is already worth the trip!
Trekking around lake Buyan and lake Tamblingan
Starting from the village Asan Munduk at lake Tamblingan on the Southern side of the lake, you cross between the 2 lakes to the Northern side of lake Buyan were you go can be picked up by the driver. For this walk there is no need to use a guide..
Trekking in the West Bali National Park
Taman Nasional Bali Barat in Bahasa Indonesia is the most north-westerly point of Bali. It includes the whole of the Prapat Agung Peninsula, and large swathes of land around the towns of Gilimanuk, Cekik and Banyuwedang.
The area has a high variation of habitats;
rain forest, dry savanna, acacia scrub, low and high land forest and areas with dense mangrove forest.
Around the Prapat Agung peninsula in the north of the park, there are long stretches of protected beach and the small island called Menjangan with an amazing coral reef.
From within every area of the park you can see the peaks of extinct volcanos:
Gunung Merbuk - 1394m, Gunung Mese - 1210m and Gunung Bajra - 1077m.
The park contains a variety of animals including barking deer, anteaters and giant squirrel.
The rarest of the animals is the endangered white Bali starling locally known as the Jalak Bali.
There is now a breeding centre in the park actively trying to increase the population of the birds.
There are two entrances in this 19,000 hectare big national park: the headquarters entrance near Gilimanuk and the entrance around corner at Teluk Terima.
The entrance itself costs almost nothing but the mandatory guide will cost you depending on your negotiation skills and the amount of time you will be spending inside the park.
Or you can pre-arrange it through us so you can be sure to pay a fair amount.
There are a few tried and tested walks:
Walk 1:
Departing and ending in the National Park Office in Teluk Terima.
This walk will loop to explore the lowland tropical bush and forest along the small river of Teluk Terima.
The whole trek will take approximately 1 to 2 hours.
Walk 2:
Departing and ending in the National Park Office in Teluk Terima, this walk is an extended trip of Walk 1 to further explore the highland tropical forest of Mount Ulu Teluk Terima which is 242 meters above sea level. The whole trek will take approximately 3-4 hours.
Walk 3:
Departure is from the National Park Office in Sumber Klampok and ends at the National Park Office in Klatakan or Ambyarsari. This route covers the lowland tropical bush and forest of Sumber Klampok, in the North part of the Park, leading up to cross Mount Klatakan which is 690 meters above sea level.
Leaving the peak, the trek will loop down to explore the West part of the Park to finally end either in Klatakan or Ambyarsari. The whole trek will take approximately 5-7 hours.
Bring camera and binoculars because there are lots of wild animals to see.
One hundred and sixty species of bird have been recorded in the park, including the Oriental dwarf King fisher - Ceyx erithaca and the near extinct Bali Starling.
Last summer we encountered a family of Black Monkey's - Presbytis Cristata - high up in the trees.
The Agung mountain
The Agung volcano, locally known as Gunung Agung, is a stratovolcano which is still active, but dormant right now. This is Bali's highest and most sacred mountain and towers over the eastern end of the island.
With a hight of 3142m it rises over the south-east caldera rim of neighbouring Batur volcano and it's northern and southern flanks extend to the coast.
This symmetrical stratovolcano has a summit which contains a steep-walled,
500m wide and 200m deep crater.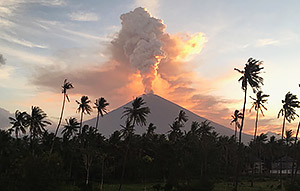 The Gunung Agung is active again since 10 August 2017 and has had its first eruption on 21 November 2017.
Last eruption at Agung was recorded on 13 June 2019.
Over the past year seismicity had generally decreased; volcanic earthquakes continued to be recorded but at a low occurrence rate.

PVMBG lowered the Alert Level at Agung to 1 - Waspada (on a scale of 0-4) on
13 September 2021.
Until August 2017 only three eruptions had been recorded in historical time from Gunung Agung; the one before last, during 1963-64.
This last eruption, one of the world's largest of the 20th century, produced voluminous ash fall and devastating pyroclastic flows and lahars that caused extensive damage and killed more than 1400 persons.
The Eka Dasa Rudra, a series of processions, ceremonies, and sacrifices held every 100 years at Pura Besakih was under way when Agung catastrophically erupted.
Quite remarkably, the mother temple of Besakih perched high on the slopes of the mountain was relatively untouched by this event and is therefore more holy then ever.
Climbing Agung mountain
Gunung Agung is viewed as sacred and for that reason is off limits to climbers during important ceremonies.
Our local guide will know and will also be able to obtain any necessary permissions from temple administrators for which some nominal donation may be required.
All climbing routes are difficult and unless you are physically fit and have some serious trekking experience, do not even attempt any of these climbs.
If you want to be certain of a good view from the top you should arrive there no later than 8AM. After that time the top of the mountain is slowly fogging up again.
Also best to avoid the months during the rainy season when the path gets slippery and the month of April when there are many religious ceremonies being held in the Besakih temple and the guides are unwilling to take you.
There are basically two routes for this mountain:
Route 1:
Start from the North East side of the Besakih temple it is a 6 - 7 hour climb to the top so start no later than midnight. At the top you will have a beautiful view over central Bali.
Route 2:
Start from the Pasar Agung temple it is a 4 to 5 hours climb but once at the top you can only see the South and the East of Bali. Unfortunately there is no way to go round the rim and descend via the Besakih route.
For both hikes it is possible to get there from the East coast of Bali the night of the climb or to make an overnight stay around lake Batur.
The Mt. Agung is a sacred mountain and cannot be climbed without an official guide. The guide need to get permission from a priest at the temple, and on your way up, will stop at a shrine to make an offering before continuing up.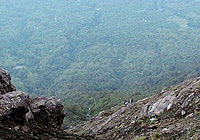 For this climb you need to be well prepared;
good climbing shoes, warm cloths, rain jacket, flashlight (preferably one attached to your head, since you need the use of both hands during your climb up), plenty supply of snacks and water.
You need to be in good shape, preferably used to mountain climbing, and well rested, before you start this adventure. Especially the last part will take a lot of effort climbing up an old lave stream which is slippery and full of rubble. Do not try this when you are afraid of heights and do not underestimate this mountain!
The Batur mountain
Batur mountain, locally known as Gunung Batur, is a small stratovolcano located in north-central Bali, Bangli district.
Major eruptions have occurred in 1917, 1926 and 1963,
the same year as Agung's major eruption, making Batur Bali's most active volcano.
The historically active Batur volcano is located at the center of two concentric calderas north-west of Agung volcano.
The outer 10 x 13.5 km wide caldera was formed during eruption about 29,300 years ago and now contains a caldera lake, Lake Batur, opposite the Gunung Abang, which with its 2152m is the third highest mountain in Bali.
The inner caldera, 6.4 x 9.4 km wide, was formed about 20,150 years ago and its south-east wall lies beneath Lake Batur.
The Batur stratovolcano has been constructed within the inner youngest caldera to a height of 700m above the outer caldera rim.
The volcano, with a hight of 1717m, consists of a main cone with three summit craters: Batur I, II and III, flanked by a small parasitic cone, Butus, on its SW slope.
Some of the latest volcanic activities are:
March 1999:
Batur volcano starts new eruptions. It was later determined that an ash eruption had begun on 15 March, sending bluish-white plumes 10-50m high. On 17 March, two relatively recent craters merged when a connecting ridge collapsed as a result of earthquakes and small eruptions. An explosion on 25th May 1999 produced incandescent ejections which fell around the crater. An explosion on 22-23 March 2000 ejected material 200m above the crater. Ash emissions continued until April 2000.
September - 7 November 2009:
The Center of Volcanology and Geological Hazard Mitigation (CVGHM) reported that seismicity at Batur increased.
The number of earthquakes increased significantly on 8 November; during this period, sulfurous plumes were ejected from the craters. The Alert Level was raised to 2 (on a scale of 1-4) meaning the Hiking trail was closed at Batur volcano due to fears of an eruption. On 19 November the Alert level was lowered to Normal or fase 1.
June 2011:
Residents smelled sulfurous gas and saw many dead fish floating on the lake's surface. Scientists from CVGHM found no evidence to conclude the fish kill was volcanically triggered nor did they mention it portending eruptive activity.
During the onset of the dry season high diurnal-temperature difference resulted the lake water to develop currents, which carried mud from the lake bottom to the surface. This was thought to correspond to the observed odors and colour changes on the lake surface. The currents and mud were thought to upset the lake's ecological balance in a manner toxic to the fish.
Climbing the Batur mountain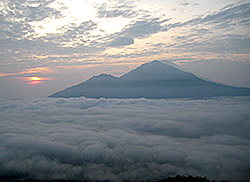 From the 3 mountain climbs described on this web page, this is by far the easiest climb - hike. The starting point is at the parking of the official park guides office, at lake Batur.
To reach the summit of Mt. Batur will take between 2 and 3 hours, depending on your physical fitness. In March 2011 it took us 2 hours to reach the summit.
We were accompanied by a proffessional guide who arranged "breakfast"; a boiled egg and a banana sandwich.
We were lucky that there were no clouds at the top which gave us a spectecular sunrise view over Mt. Agung.
We arrived the day before and stayed at a nice little hotel at the lake. Wake-up call with coffee at 3AM and pick-up around 3.15AM by car. We arrived at the starting point 20 min. later and start our hike at 3.45AM.
When we reached the summit 2 hours later it was very cold and we were happy with our extra sweater and jacket!
Downhill is much easier, since part of the descend is on a nearly finished road. Still, the descent took us 2 hours and we arrived at the park guides office around 9.00AM.
Back at the hotel we enjoyed a shower and well deserved simple breakfast.
This is one of the things you can do during your custom-made holiday.
For this climb - hike you need to have good shoes, warm cloths, flash light, small back-pack and a good physical condition, although this hike is way less strenuous than Mt. Agung and Mt. Abang!
Best period to climb is during dry season although The Batur sunrise tour can be very busy during high season in Bali: July-August.
Climbing the Abang mountain
The Abang mountain, localy known as gunung Abang, is situated on the south-east side of the caldera and with its 2152m hight, the third highest mountain in Bali.
A less known climb than Mt. Batur and for a reason.
This mountain can only be climbed during the real dry season and is way more strenuous then the 2-3 hour climb of the Mt. Batur. Mt. Batur is open terrain while the Mt. Abang is covered with forest.
The last part of the climb to the top you are walking over the very narrow rim of the mountain; not advisable for people with high anxiety.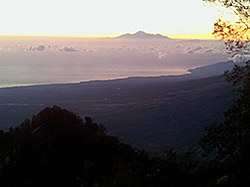 This is a 3.5 - 4.5 hour climb, depending on physical condition, and the descending part is just as difficult and takes as long as your way up. On the top however, awaits you a spectacular view (weather conditions permitted) over Bali.
To the East you can see Mt. Rinjani in Lombok and to the West you see Mt. Batur and behind that the Mt. Batukaru, second highest mountain in Bali.
For this adventure you can stay in the same hotel as for the Mt. Batur climb, so you can relax and sleep before the climb, like we did this July 2012, or another hotel nearby.
Staying at the lake-hotel the local guide picks you up around 2AM, after a 20min drive over the caldera rim you reach the starting point of this climb.
This is one of the things you can do during your custom-made holiday.
For this climb you need to have good shoes, warm cloths, flash light preferably one on ones head because you need both hands climbing this mountain, small back-pack with drinks and snacks and a good physical condition!
Rafting around Bali
Best time for rafting is, obviously, when there has been plenty of rainfall to feed the rivers. Even without the thrill of going fast, taking a trip down the river this way is an opportunity to see Bali from a different vantage point.
In that respect it is not bad at all that the rivers are not the most challenging around...
There are many companies in Bali doing trips from various rivers and they offer packages were transport, to and from your hotel, and lunch is included. We can arrange such a trip with a company or you can stop and go rafting on your way, going from one (dive) place to another, with our chauffeur. There is a morning raft starting around 9am and an afternoon raft starting around 1pm.
The following rivers are used for rafting:
Ayung river
About 5 to 10km north of Ubud is the starting point for the rafting companies on the Ayung river, the longest on Bali. The river brings you through a really amazing landscape of rainforest and rice paddies against the more sloping sides. Although it has about 27 "rapids" of class II to III it is on the whole not really difficult to stay on the boat.
The rafting might not be too exhausting, but the 400 steps down to the river and at the end the so many steps up can be a challenge for some. You will be amazed when, while walking the steps up, you will be passed by a local man / woman carrying the deflated raft on his / her head.
After a shower a nice Indonesian lunch awaits you.
Telaga Waya river
A long (12km) river winding down from the Agung mountain through rice paddy fields into the valley. Level of difficulty is equal to that of the Ayung river.
Melangit river
This 10km river flows between Gianyar and Klungkung and has some twists and turns through a rainforest canyon. Steep cliffs line parts of the river. Steep gradient in some places create waterfalls ranging from one to four metres.
The Melangit River is one of the more challenging river trips available in Bali, classified as class III-IV.
Mountain biking around Bali
As with the trekking section, similar routes can be done using a bicycle. Below we have listed a few routes which are organized, that is with a guide whereby a quality bycicle and a rain coat, if required, are included.
Most tours includes at least a lunch and/or breakfast depending on the duration of the tour.
For the more fanatic ones there is the possibility to do longer rides on more challenging trails going down from every mountain in Bali to, in some occasions, all the way down to the coast. Here a back-up truck follows you all the way and you will use first-class mountain bikes and gear.
Around Ubud
Start is at lake Batur were you will have a breakfast overlooking the lake. After breakfast the tour begins with a two and a half hours downhill ride. During the ride you can stop whenever you choose to take photos and visit the local people.
You will be able to find out details about village life including rice and vegetable farming, ceremonies, and family life.
Then there is a visit to a coffee plantation, a village temple before finally ending in the Ubud area.
In a traditional Balinese house you will enjoy lunch, a fantastic Balinese "rijsttafel", prepared by the lady of the house, Ibu Rani and students from the cooking class.
This tour is a full day tour: start from 7:45am (from Ubud) - 4:00pm.
Around lake Bratan
Starting high in the mountains at the village of Meyungan, this 25km ride winds its way down along valleys, passing temples and shrines and criss-crossing fields through landscape hardly affected by the changing times. You can see Balinese culture and customs while you pass through this beautiful countryside, arriving finally at the famous Monkey Forest Temple at Sangeh, see Sangeh monkey forest.
Around lake Batur
Start is in the Kintamani region where you will enjoy a full breakfast overlooking Lake Batur in the shadow of the magnificent Mt. Batur, a still active volcano. After breakfast is a canoe trip on the 'holy lake' were you can enjoy the peacefulness of the surrounding area.
After having a traditional Indonesian lunch the dual suspension mountain bikes are ready to take you through the small gangs of rural villages.
Kedisan still has many traditionally made homes which can be viewed on this tour, from grass huts to beautifully ornamented family compounds. You will have the opportunity to walk around and get more information about the design of these houses.
During the tour you will also view family temples, meet local farmers and shopkeepers and experience life in a remote village. After touring the village you will cycle on a small back road cutting back to the edge of the mountain and stop along the way for photos.
You will end your day with a cold soft drink and a cold towel and enjoy the view overlooking Lake Batur.
This tour is a full day tour: start from around 9:00am (from lake Batur) - 4:00pm.
Note: there is the possibility to extend this trip into a 2 day/one night happening.
Horse-back riding around Bali
Although horse-back riding was not a favourite activity in Bali it has become more popular the last years. There are a couple of stables along the south coast in Bali who offer rides for both the experienced and unexperienced riders.
There is a one-on-one guidance and if you really feel insecure, somebody will even walk next to the horse and hold the leash for you.
You can choose between ½hour rides to 2 hours rides and since the stables are near the sea you can have the emphasis on rice paddy or beach rides.
Best time to ride is early in the morning or late afternoon. Especially riding along the South beaches around 6PM so you can enjoy one of Bali's spectacular sunsets.
Watersports
If you like things like Parasailing, Jetskiing, Waterskiing, the Bananaboat or Windsurfing you should spend a day in Tanjung (Cape) Benoa (not to be confused with the harbour Benoa!). There you can do all of these activities for prices which you will not find anywhere in the Western world. If you want we can put together a whole package of these activities to fill a full day.....