Other things to do in Bali
Here are a couple of other suggestions to go to. The spa treatments mentioned are many times provided for by luxurious hotels, but there are countless independent spa facilities around. Especially in the tourist area and of course in and around Ubud.
But a traditional massage can be given everywhere from Kuta beach to some small place in the mountains, since massage is a traditional healing method in Indonesia, much more common then in the Western world.
Many people on holiday want to take something special back home with them. There are countless souvenir shops around but it might be an adventure to go on a trip for the more original stuff.
Specific things like stone statues, woodcarving etc. are often specialities from a region or village.
In order to get the best price and selection it makes more sense just to go there, particularly if you want to buy more of it. And it is way more fun than trying to get it in the tourist areas...!
There are so many nice items to buy over here, but they might be too heavy or bulky to carry on board of a plane. For many people an obstacle to buy what they really want, but no worries, we can help you with that.
Move your cursor over the map to jump to the indicated topic :
Spa and health
The Spa's of Bali offer an enormous range of treatments. Everything from basic massages, facials, and relaxing baths up to exotic body scrubs, wraps and masques.
The ancient Ayurvedic treatments from India are available at many spa's, particularly the warm oil Shirodara.
Traditional Balinese massage :
This is a therapy where pushing techniques predominate, working very deeply to ease muscle and joint pain.
Thai massage :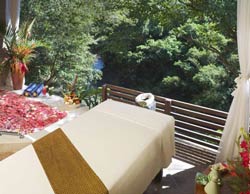 Ancient Massage or Thai Massage originates from the time of Buddha. Nuad Phaen Boran, as it is called in Thailand, is sometimes referred to as Yoga Massage or Thai Yoga Massage.
Lomi Lomi massage :
The word Lomi Lomi simply means Massage, in Hawaiian. It is a unique healing massage derived from the ancient Polynesians. One of the alternative names for Lomi Lomi is 'Loving Hands' massage. The reason for this is that it works gently yet deeply into the muscles with continuous, flowing strokes.
Shiatsu massage :
Japanese Shiatsu is also known as acupressure. It is a finger pressure massage, often confused with acupuncture. The treatment is usually performed with the recipient fully clothed.
Both acupuncture and Shiatsu are founded on the Chinese meridian system, but with Shiatsu, no needles!
For the Body Scrub treatment a paste is made, consisting of many different ingredients. This is spread over your body and left for 15-20 minutes, then scraped off. The main aim is to remove all of the dead skin.
Balinese Boreh scrub :
Traditionally found in the rice growing areas of Bali, the warm potent spices of the Boreh paste were blended at night by the mother and applied as a warm healing pack on family members who spent their entire day in the rice paddies. Many different herbs and spices are combined to make this paste but usually include cloves, ginger, pepper and nutmeg.
Javanese Lulur scrub :
Often described as "The Queen of Body Treatments", it originated in the palaces of Central Java during the 17th century. It was used by Javanese brides as a purifying ritual before marriage.
The Lulur scrub with its golden yellow colour reflecting its main ingredient, turmeric, has unique cleansing properties. Turmeric is most commonly combined with sandalwood and rice powder. After this scrub the body is usually coated with a yoghurt splash to cleanse and nourish the skin. Other scrubs can consist of coffee, green tea and many other ingredients.
Body Masques :
Body masques are used to revitalize your skin. They usually consist of fruit such as papaya, cucumber, yoghurt, pineapple or coconut, but sometimes include such additives as honey. Mud is also sometimes used. A similar application is used for facials.
Ayurvedic Treatments :
Ayurvedic is a traditional Hindu system of medicine. Its history goes back centuries and it has had an effect on almost every other system of medicine. Ayurvedic is a Sanskrit word derived from two roots: ayur which means life and veda knowledge.
The traditional Indian massage techniques are based on the Ayurvedic doshas and marmas, pressure points as in reflexology, except that these pressure points are located around the head rather than in the feet.
Vineyards
North East of Bali has long been a grape growing area and Hatten Wines have found this region suitable, owing to the abundance of sunshine, clear mountain water and rich volcanic soil found in the area.
Growing grapes in Bali has started at the beginning of the 20th Century but it is only a few decades ago, after multiple trials and errors, survival to parasites and other vine diseases, that the grapes were grown with satisfaction on a commercial scale and found in markets all over the archipelago.
Cellardoor
By strong public demand, Cellardoor Hatten Wines tasting outlet was opened for both wholesale and retail sales. It is a little shop, situated on the by-pass (main road) close to the hustle and bustle of Bali's busiest round-about; Simpang Siur.
The shop is a popular choice for guests to enjoy wine tasting of all the Hatten Wines and Two Islands products. Cellardoor is also the sales and distribution office. The atmosphere is relaxed and friendly - and here guests are amazed to find out that: yes we do make wine in Bali!
Buying more than I can carry on board....
Many people on holiday in Bali, once they have been around a bit, see many things they would like to buy and take home with them.
Within no time, especially with some of the products below, you have reached the weight limit on your luggage.
In that case there is the option to have these products shipped home to you, "door-to-door".
We have experience with exporting furniture (full containers), which we did for 2 years, and shipping single items, like Vespa's abroad (renting container space). We even send 2 pre-fab bungalow's to Spain, so we know what we are talking about and have our contacts.
We can send items to your doorstep hassle-free, including all the paperwork.
Musical instruments (Gongs and Gamelans)
There are two places where traditional Indonesian instruments are made. The village of Blahbatuh, just on the road to Gianyar, where Gongs and Gamelans are made.
But the real centre with the instrument makers lies in a village Tihingan, 3 km west of Semarapura. This village is known for producing Gamelans, Gongs and other sets of traditional music-instruments like:
Semara Pegulingan, Gender Wayang, music-instrument that accompanies the shadow puppet performance known as Wayang, and Angklung, a special music instrument used to accompany the human life cycle ceremonies.
The instruments are made from metal specially processed with the Kerewang process. This will be an interesting place for musical instrument lovers.
Paintings
Visit the Neka art museum and museum puri Lukisan (lukisan means painting) in Ubud to see the best of the Balinese paintings and their European influences. There are a lot of paintings for sale in and around Ubud. If you want to buy a high quality painting go to one of the many galleries like the Agung Rai gallery or Neka gallery. If you decide to buy a painting we recommend you to also buy the frame, because of its beautiful carvings.
Woodcarving
So many years ago woodcarving was used for carved doors or columns. The figures they carved were mainly figures like the Garuda (a large mythical bird or bird-like creature that appears in both Hindu and Buddhist mythology) or demons with a symbolic nature.
Now it is inspired by the demand of outside, so you can even find statues of Tin-tin and his little dog on Bali. The Balinese are masters in woodcarving and it is always fun to see the diversity in statues they make. A specialized form of woodcarving is the carving of masks used in the theater.
The city of Mas is the mask-carving center of Bali together with the small village of Puya.
Stonecarving
Stone carving is done for the many statues in the temples around Bali. All around Bali you can admire this art form, while on the road to your next destination or in the villages and of course in the temples. It is always possible to buy statues especially in Batubulan, the stone carving center. You can find statues in all shapes and sizes over here.
Jewelry
Very fine filigree work is a Balinese speciality and Bali is a major producer of jewelry. Celuk is the place to be for silversmithing. Just visit the small family workshops north and east of the main road.
Pottery
Visit Ubung and Kapal to see the artists at work. Most of the local pottery is made from low-fired terracotta. Near Tabanan there are workshops producing small ceramic figures and glazed ornamented roof tiles.