Nature and sightseeing in Bali
Why not visit one of the many attractions while driving to your next dive destination? Do you like waterfalls, hot springs, beautiful gardens or are you an animal lover?
We agree that Zoo's and animal parks are not exactly NATURE, but nowadays a sad necessity to preserve a lot of species from becoming extinct, and of course Bali has a couple that you might like to visit.
But there is still some real "wild life" on Bali although they might be difficult to spot. There are the, more or less wild, Macaques living in "Monkey Forests" and in the mountain areas of Bali.
Then there are Dolphins around Bali whom are made into a special attraction in the Singaraja area. Here the local fisherman developed a whole business, "Dolphin spotting", which takes place early in the morning and with a one hundred percent chance that you will see at least 1 family or, if you are lucky, loads of them.
Unfortunately, since a couple of years, big amounts of money are made with a couple of places offering the "swimming with dolphins attraction". The dolphins are kept in too small pools and sea pens and there is no one in the government willing to stop this animal torture in Bali and the rest of Indonesia.
We are totally opposed to this kind of sick entertainment and refuse to arrange any trip like that since we believe that Dolphins can be seen in the wild where they belong!
On this page we show you some, but not all, of the possibilities you may want to visit or if you know specific special stuff you would like to see or do than please fill out our Contact us form, and let us know what your specific interests are.
Our guess is we will be able to fulfill this!
Move your cursor over the map to jump to the indicated topic :
Monkey forests
Long tailed Macaques are found throughout South East Asia. On Bali, these Macaques, Macaca fascicularis, tend to stay within the forest areas, but occasionally wander into rice fields or even village areas that are adjacent to the forest.
Because monkeys can embody both positive and negative forces, the Balinese both worship and loathe them.
Many temple-sites have populations of Macaques around, monkeys that occupy sacred Balinese Hindu temple-sites are worshiped and protected by the Balinese, because they are believed to be the guardians against evil spirits.
However, when the Macaques start raiding rice fields or snatching items from souvenir shops, the Balinese belief that monkeys can be a negative force in nature is reinforced.
While driving through the forested mountain areas of Bali you can see them regularly at sites were small temples are placed. Temples means food, because of the daily offerings placed by these sites plus many times there are little food and drink stalls were people will have a rest and a bite to eat. The Macaques are well aware that people are willing to give them something to eat, and, if not they will try to steal it. The vendors are playing in to this demand and will try to sell you special "monkey-food" peanuts and bananas.
Sacred monkey forest Padangtegal - Ubud
The Sacred Monkey Forest is owned by the village of Padangtegal and represents a sacred Balinese Hindu site.
The Pura Dalem, temple of the dead, see Pura Dalem, from the village is situated here. The people make sure that the sacred integrity of this Hindu site is maintained.
There is a regulation board at the entrance where you also need to pay an entrance fee. If you are not dressed properly there are sarong's and sash's available which are mandatory in this sacred area.
In the forest you will find beautiful statues of animals and a stone carved bridge leading to a sacred pool.
Despite the fact that many species of Macaques thrive in areas that are heavily populated by humans, there is evidence that their survival may be dependent upon the conservation of Bali's forested areas.
There are 4 distinct troops of Balinese long-tailed Macaques living here.
Currently, there are approximately 340 individuals. It is very difficult to identify each of the Sacred Monkey Forest's long-tailed Macaque troops, because there can be extensive overlap between the ranges of the troops.
This overlap in ranges occasionally causes inter-troop conflicts to break out.
The guides can tell you which individual belongs to which troop, but even for them it is difficult.
Sangeh Monkey Forest - Sangeh
The renowned 6 hectares of Bali Sangeh Monkey Forest are filled with giant Nutmeg (or Pala) trees capable of growing as high as 40m.
The temple, Pura Bukit Sari, was originally built around the 17th century during the Mengwi era as an agricultural temple and has been restored several times, most recently in 1973.
The temple in the heart of the forest is shaded by the high Pala trees and is covered in moss.
In the central courtyard, a large statue of Garuda, an old carving of uncertain date, symbolizes freedom from suffering and the attainment of amerta, the elixir of life. The forest of Nutmeg trees in which it lies was presumably planted deliberately a long time ago, for it is unique in Bali.
The Macaques will approach anyone and you should be aware that they are attracted to shiny objects, so sunglasses, cameras and jewelry should be left behind or kept well hidden under clothes or in a bag while exploring the forest.
Waterfalls (air terjun)
The waterfalls are concentrated in the North of Bali and are easily reached from the main roads on the way to a next destination.
These waterfalls are not extremely high or spectacular but they are a welcome break from sitting in a car and walking through the cooler forest to the waterfall is a pleasant experience.
The following falls we can recommend to go to:
Gitgit waterfall - Gitgit
Coming from the South on the main road to Singaraja you will go through a little village called Gitgit.
There is a path through a beautiful rain forest with some huge bamboo plants on the way to the fall.
The 40m high waterfall is situated about 1km from the main road. The water from the fall comes down a steep stone cliff into a mist covered pool below.
Although a well known tourist attraction it is still a nice place to spend a few hours.
Munduk waterfalls - Munduk
In this mountainous area are 3 waterfalls, but you can reach only 2 of them by foot.
No other way to get to the falls than to make this visit part of a longer hike, see hiking around Munduk, in this area.
The most visited waterfall will take at least 30 minutes to reach from the main road in the village. It is an estimated 20m high waterfall and we used it as the symbol for waterfalls on this page.
The other waterfall, 25-30m high, is situated more downstream and is a challenging hike that will take, depending on your condition, about 45 min..
Blahmantung waterfall - near Pupuan
To reach this spectacular waterfall you can take a car or motorbike on the road up the mountain, but halfway you need to continue by foot. The path is easy to follow but it twisted and split off several times, so a it is a good idea to bring a local guide.
The views, while walking uphill, are amazing with in the distance forested mountains and rice field terraces. Your hike up will take you partly through small coffee plantations and after 40 min. you can see the waterfall dropping down.
There is a massive cascade of water falling about 80 meters into a small pool. This waterfall is spectacular, especially during the rainy season, but the tracks are less accessible during this season.
Yeh Mempeh waterfall - near Les
A beautiful and less explored waterfall on a side of Bali rarely visited by tourists. Takes about half an hour along a shaded river stream to walk from the parking area to the waterfall.
Hot springs (air panas)
Because Bali, as the rest of Indonesia, is mostly but not completely volcanic there are plenty of places where underground water, heated by the hot interior, comes to the surface.
The hot springs below are turned into bathing places:
Hot spring Banyuwedang - at the Mimpi Resort
This large hotspring is in the middle of a mangrove area and partly on the premises of the Mimpi Resort. Close to the hotspring is a little beach area.
The water of here is about 45°C and has been tested by a German company. The outcome was that it is classified as "aqua ex fonte thermale oligominerale" with a comparatively low content of solute gases and radioactivity (Radium and Radon) and is comparable to other well-known thermal spring waters such as Baden-Baden of Germany, Evian and Vichy of France, Bath of the UK and the likes. It can even be consumed for a specified period of time.
Regardless of these test results the people have been coming from as far as Java to this place for generations for its beneficial qualities...
Hot spring Banjar - Banjar
Just a little of the main road from Singaraja to Pemuteran, it has a lush forest surrounding and a multi-leveled pool area. The water comes directly from the spring and through 8 carved sprouts enters the small top pool.
Then it flows down to the second (largest) pool through 5 carved sprouts and finally flows away into the river. There is a smaller pool with 3 sprouts where the water also comes directly from the spring. Since these sprouts are high the water drops down with quite some force.
The whole area is well maintained with changing rooms, showers and a little restaurant.
Although the carved stone statues look like they have been around for centuries they are only a few decades old. The slightly sulfurous content of the water combined with the humidity of the tropics can be deceiving in that respect... definitely worth a visit!
Hot spring Yeh Panas - Penatahan
Located on the grounds of a hotel complex with the same name and on the road to the Pura Batukaru. The location is beautiful and would be such a treat to stay overnight but for some mysterious reason the place is run-down due to poor management. But as a stopover it is still worth going there.
Hot spring Yeh Poyan - Poyan
Tirtagangga water palace
Tirtagangga royal water gardens are composed mainly by water, gardens and sculptures. It has an unique combination of Balinese and Chinese architecture.
Tirtagangga is situated at Ababi village in the middle of rice fields around the natural springs of Rejasa. These springs are believed to be derived directly from the river Gangga and therefore sacred.
This complex was built by the last king of East Bali, Anak Agung Anglurah Ketut Karangasem, around 1948.
Tirtagangga Water Garden covers an area of 1.2 hectare and is divided in three complexes. The first complex, on the lowest level, has two ponds and a water tower. The swimming pools are on the second level and the pavilion of the King is on the third, main level of the complex.
This complex and other palaces in this area were largely destroyed by earthquakes during the eruption of Mt. Agung in 1963. In recent years the local government has renovated these cultural sites.
Nature and animal parks
Bali Bird Park
The park is divided into regions that recreate the natural habitats of the birds, complete with indigenous plant life. Here you can see the original jungle birds of Bali and the world's rarest bird the Bali Starling.
There are giant walk-through aviaries that replicate the natural eco-systems of the Bali jungle and Papuan rainforest.
You will walk on pathways and bridges that are carved through the dense foliage where only filtered sunlight manages to penetrate the canopy of the green overhead.
Several vantage points have been strategically positioned to catch glimpses of free flying birds as they follow their survival instincts of foraging for food, nesting and mating.
Discover the exotic birds of Papua, Sumatra, Borneo, Java and East Indonesia. There is also a beautiful Komodo Dragon living in the park. The Park has successfully bred many species, including the rare Pesquet's parrots and numerous Bali Starlings. The park accommodates more than 40 species of protected Indonesian birds. There are daily free flight bird shows and the possibility to feed the birds yourself during the interactive feeding time.
Bali Orchid Garden
This beautifully landscaped Orchid Garden is close to Sanur and is Bali's only Orchid Garden for tourists. The hectare of landscaped Tropical gardens provides a nice environment where exquisite orchids bloom throughout the year. Here grow many different tropical plants from Cordylines, Bromeliads, Heliconia, Aroids, Pitcher plants and many more from Indonesia and abroad.
Orchids range from showy Cattleya and Vanda hybrids to a large range of Indonesian species. At the garden they offer guided tours and there is a possibility to buy souvenirs, flower boxes for export, orchid flasks, cut flowers and flower arrangements.
Kopi (coffee)Bali and Kopi Luwak are available from the on-site cafe along with a variety of other refreshing drinks.
Kopi is the Indonesian word for coffee, and luwak is a local name of the Asian Palm Civet.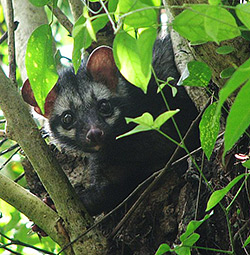 The raw, red coffee berries are part of its normal diet, along with insects, small mammals, small reptiles, eggs and nestlings of birds, and other fruit.
The inner bean of the berry is not digested, but it has been proposed that enzymes in the stomach of the civet add to the coffee's flavour by breaking down the proteins that give coffee its bitter taste.
The beans are defecated, still covered in some inner layers of the berry.
The beans are washed, and given only a light roast so as to not destroy the complex flavours that develop through the process. Some sources claim that the beans may be regurgitated instead of defecated.
This all may sound very disgusting, but the taste of this coffee is so good that people are willing to pay a very high price for these beans.
Kopi Luwak has become very famous and is now offered in many tourists places along the road from Denpasar to Singaraja.
Down-side to this is that there are many Asian palm civet cats captured and kept in small cages while being fed mostly coffee beans.... This is animal torture and we do not want to promote places like this!
Bali Botanical garden
The Botanical Gardens or Kebun Raya Eka Karya are located near Bedugul in the mountains. It is a protected area and a tourist destination as well as a conservation and research centre.
When it rains, a visitor can drive around this 154 hectare large area, although the best way to explore the garden is on foot.
There are thousands of species of plants here in a beautiful landscaped garden. There are six tracks for visitors to explore, cars can pass these tracks but not motorcycles or buses. The tracks are interconnected and direction boards can be found along the tracks so visitors can find their way around.
The most popular track of the six is the Violet Track, along which visitors can view wild orchids and cactuses. There are about 4,000 species of orchids such as scorpion orchids (Arachnis flos-aeris), which are bright brown flowers interspersed with pink, soil orchids (Spathologlottis plicata) and orchids from North and South America.
Bali Treetop Adventure Park
Located in the Bedugul Botanical Gardens, this high-flying adventure park is a major attraction. The park includes six main circuits that stretch from tree to tree, as well as nets, Tarzan swings, jumps, and bridges. Each run also features "Flying Fox" zip-lines of up to 160 metres, providing heart-pounding thrills to guests as they fly through the air. There are 65 Treetop challenges for truly memorable experiences and fantastic panoramic views.
There are circuits for adults and children from age 4. The varying heights range from 2 to 20 metres.
You can experience the circuits alone or as a group, with friends or family.
Bali Elephant Safari Park
Located in the cool jungle forest of Desa Taro, 20 mins north of Ubud, the Elephant Safari Park offers you the chance to feed and interact with elephants in a natural setting.
This park is still on our map, but we do not agree with the Elephant-rides!
Bali Butterfly Park
Taman Kupu Kupu is Indonesia's only butterfly park with the aim to study, breed and preserve many kinds of butterflies from Bali and all over Indonesia including the rare Bird Wing Butterfly.
It is the largest of its kind in South East Asia and is located 7km north of the town of Tabanan in the village of Wanasari.