Arrival in Bali - pick up by our car to your 4* resort at Sanur beach.
This day is to acclimatize and relax...
Pick-up after breakfast at 9.00am to go to Sanur harbour.
The boat to Lombok departs at 9.30am and will arrive at Bangsal harbour Lombok at 11.30am. Here you will be transferred to your boutique hotel at the beach in Senggigi.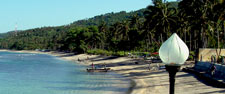 This day you can do whatever you want, but keep in mind the next day you will start climbing Mt. Rinjani.
For the trekking tour you need to have good climbing shoes, small back pack, warm cloths, sun tan lotion and a good physical condition.
After breakfast you will be picked up by our driver to take you to Senaru village (601m) where you will meet your trekking guide and porter and proceed to Taman Nasional Gunung Rinjani headquarter.
After registration you start the climb to the camp site where you will spend your first night.
For more details about this tour see Climbing the Mt. Rinjani.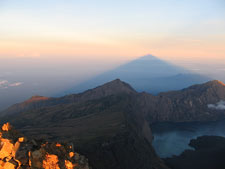 You start around 4.00am with your ascent to Plawangan I Senaru crater rim if you have spend the night at Post III.
Sunrise at the crater rim; with good weather conditions you can see Mt. Agung (Bali) and inside the Mount Rinjani crater, you have spectacular views over Segara Anak Lake (2000m) and the active volcano Mt. Baru (2726m).
After enjoying the view, the trek proceeds for a couple of hours down the trail to the crater lake where you will spend the night.
After breakfast you will start your 7 hours descent to Senaru village.
The first part of the long trail will be through grasslands and then back in the shade of the tropical forest.
The thick tropical forest is rich in flora and fauna, see Mount Rinjani National park.
The trek ends at the Rinjani trek centre where our driver will be waiting for you to take you back to be pampered at your boutique hotel in Senggigi.
After a morning relaxing our driver and guide will pick you up around 1.00pm to take you on a half day tour to Mataram and surroundings, see Places of interest in Lombok.
You will be back at your hotel around 5.00pm.
After breakfast the driver will pick you up to take you to the Sekotong area of the peninsula Batugendeng.
The journey from Senggigi to Sekotong takes more or less 3 hours so you will arrive around 1.30pm in your resort immediately at the beach; there is no swimming pool, but the sea. Next day you will be diving and stay for 2 nights in a small resort on Gili Asahan. You can leave excess luggage at this resort, since you will be back at this resort for another 2 nights.
After breakfast you will be picked up by a car to take you to the dive operator.
You will make 3 boat dives and after your last dive the boat takes you to a small resort, no swimming pool but the sea, on Gili Asahan where you can enjoy a nice cold drink at the beach.
After breakfast you will be picked up by the dive boat. This day you will make 3 boat dives, the last one will be a night dive, see Sekotong dive sites.
The dive boat will take you back to the island where you can enjoy your dinner and last night on this island.
This morning the boat will pick you up early and you will make 2 dives in the Sekotong area. You will enjoy lunch on one of the islands before your second dive.
Around 3.00pm you will be back on mainland Lombok where a car awaits you to take you back to the resort.
Enjoy your breakfast and you will be picked up by a car early to take you to Belongas bay; this will take 1.5 hours.
Depending on the time of year, weather conditions and your dive level your first dive might be the famous Magnet dive site, see dive sites Belongas Bay.
After lunch you will make your second dive. You will be back in your resort around 5.00pm to enjoy your last night here.
Around 10am you will be picked up to be transferred from Sekotong to Kuta Lombok. Including sightseeing stops inbetween a 4 hour drive.
On your way you will visit Sukarara,the famous weaving village, and Bambitan a Sasak village, see Places of interest in Lombok.
You will arrive in Kuta around 2pm and check in at a resort at the sea, where you will also meet the people from the dive shop.
Together you will decide which of the 2 days you will be diving.
There is no program this day, so you are free to relax on the beach / pool, or explore the beautiful Kuta.
You can either rent a bike or go by car to visit the different bays and beaches, see South Lombok.
The same dive operator as in Sekotong has a dive shop at your hotel and they will take you for 2 dives in the Kuta area.
This is your last day in Lombok, so you can also decide to dive 1 day before and use this day to explore or relax.
At 10.00am the car with driver will take you Praya, where the International Airport Lombok is located, to fly back to Bali.

You will arrive at Ngurah Rai International Airport at 1.10pm and be picked up to go back to your hotel in Sanur. Time to start exploring - the Sanur Beach Promenade is lined with outrigger boats along the water's edge, and good restaurants and cafes opposite.
Enjoy your last day in Bali!
Our driver will pick you up to take you to the airport.
---
Please contact us when you are interested in this trip or any of the other example holidays:
The last menu option, contact us, contains an enquiry-form. Here you can indicate what you like to do during your holiday and send this to us.
From there, through two-way communication, we hopefully come to a final holiday schedule.
We have created this example holiday in 2012. In August 2018 Lombok has suffered 3 major earth quakes. The Gili's have a lot off damage as well as many small mountain villages around the Rinjani volcano. The International airport near Praya is open, but boat traffic between Bali and the Gili's has stopped and will be resumed in September 2018.