The Gili's south west - Sekotong area
These islands - Gili in the indigenous Sasak language means Island - are located north of the Batugendeng peninsula, also known as the Sekotong area, and are not as famous as Gili Trawangan, Meno and Air.
There are actually 16 small islands around this peninsula and only three of them are inhabited by local people (approximately 2.200 persons):
Gili Gede, Gili Asahan and Gili Layar.
The Sekotong region is an unspoiled part of Lombok in comparison with Senggigi or Gili Meno, Air and Trawangan.
It has a rough coast line with beautiful white sandy beaches and can be reached by car from the harbour of Lembar in about
30 minutes. There are a couple of nice resorts on the mainland and there is accommodation on the beautiful islands Nanggu, Gede and Asahan.
To reach this area you can fly from Bali's international airport, Ngurah Rai, in 20 minutes to Lombok International airport,
IATA code is LOP, near the city of Praya.
There you can be picked up by car, which we can arrange, to your accommodation in more or less 45 minutes.
The other possibility is to take the ferry from Padangbai, Bali, (4-5 hours) to the harbour at Lembar, from there it will take you more or less 30 minutes by car to your accommodation in the Sekotong area.
Unfortunately the fast boats are not going to the harbour of Lembar anymore, but straight
to Teluk Kodek / Nare and Gili Trawangan.
They depart from either Padangbai (1¼ hours), Sanur (2¼ hours with a stop at Nusa Lembongan) or Serangan (2½ hours) harbour.
For the people who love to travel this might be an option, pick up by air conditioned car from Teluk Kodek / Nare and then overland to the Batugendeng peninsula (2 hours).
Dive conditions Sekotong area
First thing we should mention is the pristine reef with an abundance of soft and hard corals here. This area has not been damaged by dynamite or cyanide fishing and therefore amazing and unique.
There are varying conditions throughout the bay of Sekotong:
from easy and relaxed conditions in the protected bay to exciting and adventurous diving around Bangko Bangko and further to the south.
This makes the diving suitable for beginners as well as advanced divers.
Best months to dive are from April till October during the dry season, but diving is possible all year round. See also the detailed weather graphs.
The water temperature has an average of 25-26°C but depends on the season and the location of the dive site; since there are thermoclines and cold upwelling's.
The topography of the sites consists of reef slopes, walls, plateaus and caves.
The visibility can be up to 25 metres and more during the dry season - depending on the weather condirions - but goes down during the rainy season.
The dive sites are reached by boat from the dive shop near Sekotong, depending on the dive site it will take you 20-50 minutes to reach the site.
Shark numbers are decreasing at a shocking rate.... What all people, especially divers, should know about the shark population.
Dive sites Sekotong area
Use the map to jump to the dive site :
Hadiah reef - [1]
This dive site is near Gili Nanggu and offers an amazing reef with it's colourful residents. The water temperature varies between 25-27°C.
The reef slopes down to 26m and the current is mild, depending on the tide.
You will find an array of hard and soft Corals here. There is a big chance you encounter Lionfish, Sergant fish and many different species of Nudibranch.
This is a very good site to do a night dive; the time when lots of Crustaceans are making their appearance.
Stairs to Medang - [2]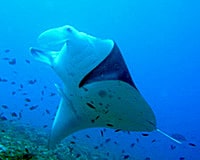 On the west tip of the peninsula are 3 dive sites starting with Stairs to Medang.
Here the diving can be more of a challenge with the currents, but this will give you the opportunity to see the larger marine life!
There is a sloping reef going down in terraces from 14m to more or less 35m with a gorgeous underwater landscape. Lots of small and larger reef fish and different Shark species can be found around here.
In the shallow part on top of the reef Turtles and Lobsters are a common sight.
The majestic Manta rays have been seen at this dive site more then once. This site is for the advanced diver.
Gili Renggit Barat - [3]
This is a sloping site located on the west side of Gili Renggit.
The healthy condition of the reef in the Sekotong area is breathtaking. Here the reef consists of huge Table corals and other colourful hard and soft Corals surrounded by Antias and other Reef fish.
This site is a real Macro site with a diversity of Nudibranchs, Cleaner shrimps and different species of Frogfish.
While diving here in October the whole area was covered with yellow Sea cucumbers. There was a mild current and the water temperature was around 26°C. This is an easy dive for all levels of divers.
Gili Renggit Timur - [4]
On the east side of Gili Renggit another great dive site.
The slope is covered in colourful soft Corals and Feather stars with lots of Shrimps, Glass fish and Ghost pipefish around.
Good chance to see Moray eels, Cuttlefish and Blue-spotted rays on this dive. In October we saw at least 9 Blue-spotted rays all in one small area probably looking for a mate.
During your dive do not forget to turn around and look into the deep blue for patrolling White-tip reef sharks.
The current is mild with a water temperature around 26°C.
Batu Gendang and Batu Mandi - [5]
This is the last of the 3 sites on the West tip of the peninsula.
At a depth of 25m you will find massive blocks, hence the names Batu Gendang, drum stone, and Batu Mandi, wash stone, scattered around. This labyrinth is home to different species of Sweetlips, Plectorhinchus, and bigger marine life like;
Napoleon wrasse, Tuna, Trevally, Baracuda and White-tip reef sharks.
Currents depend on tide and weather conditions and the water temperature is between 25-27°C.
Sunken Island - [6]
This dive site along the east coast of the island covers quite a large area. Start in shallow water and follow the slope, with terraces that go gradually deeper, to a plateau at a depth of about 24m. The current varies between slight and moderate and visibility is around 15 metres.
The overhangs are filled with Soldierfish and Copper sweepers.
You can see numbers of Green turtles and Hawksbill turtles eating Hydroids.
White-tip reef sharks, Giant trevally and schooling Barracudas can be seen during the deeper parts of the dive.
Lighthouse - [7]
The third site at the west tip of the peninsula is located in front of Bangko-Bangko.
There is a descending plateau which, at 14m, leads into a deep valley covered with Coral formations.
In this valley you can find an abundance of marine life;
schooling Mackerel, Sweetlips, Groupers, Emperors, Surgeon fish and White-tip reef sharks.
Depending on the weather conditions this is an advanced dive.
Gili Kura Kura - [8]
This dive site is great for early morning and night dives. The soft Coral covered wall drops down to 16 metres with a visibility between 15 and 25 metres and home to a variety of Crustaceans and juvenile fish.
The current is usually mild and makes it a good site for all levels of divers.