Banda islands - Moluccas
Located in the middle of the deep Banda Sea are a group of small volcanic islands which used to be the centre of the Spice Island trade. Originally the world's sole source of nutmeg and mace, these tiny islands have attracted traders since at least 2.000 years ago. In the 16th century, European explorers discovered entire continents in their quest for these islands.
Colonial house of the governor - Banda Neira

Those heavy canons - Banda Neira

How it used to look - Banda Neira

Old Dutch map of the Banda Islands

Home stay in Lonthoir, named after our home town! - Banda Besar

Het Zonnegat - entrance to the bay

Island Run; picture taken from Nailaka

One of the many old Colonial houses - Banda Neira

View of Gunung Api from fort Belgica

View from fort Hollandia on Banda Besar

Traditional long boat - Kora Kora

Drying of the spices

Airport Banda Neira

Inside the museum - Banda Neira

Street with Colonial houses - Banda Neira
The Banda islands consist of seven inhabited and numerous uninhabited islands. The three main islands are:
Banda Neira or Naira, the active volcanic island Banda Api and Lonthor or Banda Besar.
Banda Besar or Lonthor is the biggest island - 12km long and 3km wide - here are 29 century-old nutmeg plantations created during the Dutch explorations.
West from those three islands are Pulau Ai and Pulau Run who played a major role in the English-Dutch rivalry.
East the small island Syahir also called Pulau Pisang and south-east Pulau Hatta, formerly known as Rosengain.
The rest of the islands , most of them uninhabited, are:
Nailaka, Batu Kapal, Manuk an active volcano, Pulau Keraka and Manukang.
Most of the current population are descendants of migrants or exiles from different parts of Indonesia. The native Bandanese people are living on the Kai islands - Kepulauan Kei - south-east of the Banda islands. There are 2 villages on Kai Besar, Banda Eli and Banda Elat, where the people speak the Banda language. This Malay -based Creole language is different from the Ambonese-Malay language and is well known for its unique accent.
The main town and administrative centre of the Banda islands is Bandanaira also known as Banda Neira, located on the island of the same name.
It rises out of 4-to-6-kilometre deep ocean and the islands combined have a total land area of approximately 44 km² and a population of 18.352 people (2011).
Banda Neira has an airstrip, a harbour, a traditional market, some local restaurants (warungs) and limited accommodation (from very basic to very special).
There are also some local government offices, all housed in buildings dated back to the Dutch colonial period.
As a matter of fact, walking down the small village of Naira is a journey back in time. Left and right of the quiet streets you will see old empty houses where the former planters or "perkeniers" used to live. You can walk into these abandoned houses and almost feel how life would be for one of those Dutch planters living here so isolated and far away from Holland.
From a distance the two landmarks on Bandanaira are Fort Nassau (1607 - 1609) and Fort Belgica (1611). These forts gave the Dutch a great view of the surrounding islands and a save place against attacks from the British.
History of the Banda Islands
Early arrivals: the Portuguese
In early 1512 the Portuguese arrived, with help of Malay pilots, at the Banda islands. They decided to find these islands after conquering Malacca and hearing of the richness, namely the nutmeg, mace and cloves which in Europe at the time were sold by Arab traders to the Venetians for exorbitant prices.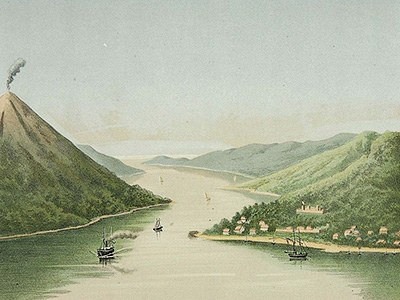 The first expedition remained in Banda for about one month, purchasing and filling their ships with Banda's nutmeg and mace, and with cloves in which Banda had a thriving entrepôt trade.
D'Abreu sailed through Ambon and Seram while his second in command Francisco Serrão went ahead towards the Moluccas, was shipwrecked and ended up in Ternate.
Distracted by hostilities elsewhere in the archipelago, such as Ambon and Ternate, the Portuguese did not return until 1529; a Portuguese trader Captain Garcia Henriques landed troops in the Bandas.
Five of the Banda islands were within gunshot of each other and he realized that a fort on the main island Neira would give him full control of the group.
The Bandanese were, however, hostile to such a plan, and their warlike antics were both costly and tiresome to Garcia whose men were attacked when they attempted to build a fort. From then on, the Portuguese were infrequent visitors to the islands preferring to buy their nutmeg from traders in Malacca.
Dutch explorations
On the 15th of March 1599 the Dutch ship "de Gelria" under the command of Jacob van Heemskerck enters the bay of Banda Neira.
They start trading with the Banadanese and, as long as the Dutch respect the local trading customs, all goes well. Although the Dutch disliked dealing with the Bandanese, the trade in spices was a highly profitable. They could sell these species for 300 times the purchase price in Banda. This justified the expense and risk in shipping them to Europe. These profits saw an increasing number of Dutch expeditions and it became soon clear that competition between the Dutch merchants would eat into all their profits.
Thus the competitors united to form the Vereenigde Oostindische Compagnie - VOC - the "Dutch East Indies Company". This was the beginning of the Dutch rule in Banda.
English-Dutch rivalry
While Portuguese and Spanish activity in the region had weakened, the English had built fortified trading posts on tiny Ai and Run Islands, ten to twenty kilometres from the main Banda Islands. With the British paying higher prices, they were significantly undermining Dutch aims for a monopoly. As Anglo-Dutch tensions increased in 1611 the Dutch built the larger and more strategic Fort Belgica above Fort Nassau.
In 1615, the Dutch invaded Ai with 900 men whereupon the English retreated to Run where they regrouped. That same night, the English launched a surprise counter-attack on Ai, retaking the island and killing 200 Dutchmen.
A year later, a much stronger Dutch force attacked Ai. This time the defenders were able to hold off the attack with cannon fire, but after a month of siege they ran out of ammunition. The Dutch slaughtered the defenders, and afterwards strengthened the fort, renaming it "Fort Revenge".
In 1667 the Treaty of Breda was finally signed, bringing an end to the Dutch - English hostilities. It transpired to be a hugely significant moment in history,
as the agreement was based around a property swap of the then English Run Island and Suriname with the then Dutch New Amsterdam - Manhattan, New Jersey and Delaware Estuary, renamed by the English as New York.
The Dutch monopoly on nutmeg and mace was destroyed by the transfer of nutmeg trees to Ceylon, Singapore and other British colonies in 1817 after the capture of the main Island Banda Besar in 1810 by Captain Cole, during the time Holland was occupied by the Spanish.
1854 saw the arrival of the famous British natural historian Sir Alfred Wallace, who spent 8 years in the area and collected "125,660 specimens of natural history", mostly in Moluccas.
Climbing Gunung Api
Gunung Api forms a conical peak rising from the floor of the southern basin at 4.500 metres to 640 metres at the center of the 3-km-wide Banda Api island. At least two episodes of caldera formation are thought to have occurred, with the islands of Lonthor (Banda Besar) and Naira considered to be remnants of the pre-caldera volcanoes.
After having lain dormant for 97 years, Gunung Api which name literally means Fire mountain, violently erupted on the 9th of May, 1988, causing total evacuation of the surrounding areas which includes the nearby islands.
This powerful eruption had a devastating impact on what was once an integral part of the famed "Maluku Sea Gardens". Molten lava oozed across 70.000 m² of well-developed fringing reef, destroying everything in its path.
Hardened lava, once broken down, provides some of the most fertile soil on earth, because of its richness in minerals and nutrients brought up from within the earth.
After the Banda eruption of 1988, scientists were now provided with a unique opportunity to research if the same will happen in the sea. Coral colonization was monitored on 3 locations, and in just 5 short years the hardened andesitic flow supported over 120 species of coral, a higher diversity and abundance than the adjacent reef not covered by lava.
Now, nearly 30 years later, coral growth around Gunung Api Banda not only matches, but exceeds the development that normally takes coral formations over 70 years to achieve, making it the most rapid growing coral in the world.
It's relatively easy to climb the Gunung Api; the top is at only 623m above sea level but the slope is about 45°!
Best to start in the morning when it's not so hot yet. Ask a fisherman to bring you over from Banda Neira, only about a 100 metre, and follow the path to the top.
It takes around 45 minutes to an hour to reach the caldera.
Unfortunately when I was at the top the whole mountain was covered in clouds...
Dive conditions Banda islands
The two central and highest-populated islands, Banda Neira and Banda Besar, are located within the national marine park "Taman Laut Banda" that was established in 1977 and comprises 2500 ha.
A study by the Nature Conservancy in 2002 demonstrated the extraordinary quality of the reefs in comparing coral diversity to other known coral-hotspots. The coral diversity in relation to the relatively small reef area was extremely high, which was true for almost all the reefs of the Banda island region that had been surveyed.
Due to the great depth of the Banda Sea, Sea depths around the Banda Islands, the coral reefs are less affected by climate change than the reefs of West Indonesia.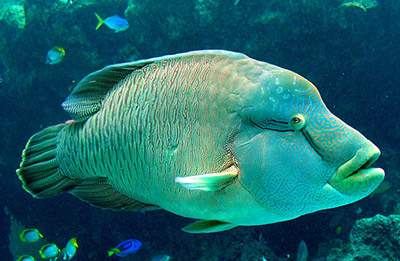 For the diving there are two high seasons, March and April and the second from mid-September until late December. Outside these months, it is still possible to dive the area, but the sea can be very rough at times. The months of January, June and July the dive operators are closed.
Due to its remote location and the surrounding deep sea, the waters around Banda are extremely clear. Great visibility up to 40 metres from February till May whereas the more turbid plankton-rich times after the southeast monsoon in August and September will surprise you with incredible numbers of fish and more frequent encounters with larger pelagics.
The Bandas are also home to the largest Napoleon wrasse population in Indonesia known to date and you can see them on almost every dive.
Since these volcanic islands are located in the 5000m deep Banda Sea, they are a meeting point for pelagic predators as Hammerhead sharks and Tuna. There are steep walls, Sea-fan gardens and huge Barrel sponges to be seen while diving and there are some great muck-diving spots in the harbour area.
Shark numbers are decreasing at a shocking rate.... What all, especially divers, should know about the shark population.
Dive sites Banda islands
When visiting the Banda islands we had our base on the island of Neira, 18 days, and did either diving or exploring the islands...so we covered nearly all dive sites while diving with both dive-operators on the island. Except for the remote Suanggi island unfortunately....
Use the map to jump to the dive site :
Maulana - [1]
This dive site is in front of Hotel Maulana and here you cannot miss the Mandarin fish performing their mating dances in the late afternoon.
There are many of them and you can easily spot them standing on the shore looking into the water. The main pier of Banda Neira is only 25 metres from the starting point and is overgrown with Sponges, Soft corals and Ascidians providing shelter for juvenile Batfish, Pipefish, Crocodilefish, different Scorpionfish and large Moray eels.
Great muck-dive site and also a good place for snorkeling...
Pulau Keraka - [2]
This site near the small island of Keraka has a sloping sandy bottom with rocky walls and coral boulders. The maximum depth is 25 metres with a comfortable 28°C water temperature and hardly any currents here.
Around 22 metres guide Toby pointed out 3 different coloured Scorpion-leaf fish and there where many Ghost-pipefish around. During this dive we passed 4 or 5 nesting Titan trigger's and they were in the mood for a fight...... so we needed to swim fast to get out of their territory.
Always like to see them, but the minute they start looking at you and swim on their site it is time to be careful and get out of their way. During this dive different Moray eels hiding between the boulders, Garden eels, Napoleon wrasse and much more...
Batu Kapal - [3]
The rock sticking out of the water looks like a ship and that is exactly what Batu Kapal means: Ship Rock.
Known for its strong currents and great visibility (depending on weather conditions of course), we had 30 metres in November, but can be 40+metres from February until May.

This site has a series of pinnacles, the main pinnacle on the west is large and starts at 8 metres and is connected to the next deeper pinnacle to the north. They form a valley and both drop down to more than 50 metres...
The area is covered with orange Gorgonians, Barrel sponges used by Giant and Honeycomb Moray eels and loads of Red-tooth triggerfish around.
The eastern pinnacle is similar but slightly shallower, and forms a channel with some boulders on 22 metres. The wall of the channel is colourful and bustling with life.
In the shallows, covered with Leather corals we spotted an Octopus and moments later a Sea krait passed by. Worthy for multiple dives..
Syahrir barat - [4]
This island is locally known as Pulau Pisang because of its banana shape, and can be reached by boat in 20 minutes from Banda Neira. Here you find a sloping reef which transforms into walls going down to 25-50 metres.
Normally moderate currents for a great drift dive. The walls are covered with Gorgonians, all kinds of Sponges, Anemones and Whip corals. This healthy reef is home to a large number of Butterfly, Surgeon, Trigger, Parrot and Angelfish.
From Tuta, our German friend who is in charge of the dive shop, we heard that the reefs are to be one of Banda's top spawning grounds. When we were diving this site it was cloudy and the visibility not that good, still a great dive!
Syahrir timor - [5]
The east side of the island has way more current, as we noticed, while diving with the German photographer Tobias (who was there to do the photography for the German magazine "Tauchen") and guide Toby. The wall is very steep and the place to see big pelagic in the blue.
The four of us went down to, hopefully, see Hammerhead Sharks since the condition were there...well we encountered sweeping currents, but unfortunately no Hammerheads. To be honest the only thing we remember from this dive is hanging on to the wall, while lots of stuff passed us, but visibility was bad and the cloudy weather conditions didn't help.
All this made it a thrilling dive...but next time we hope to see some Hammerheads!
Pohon Miring [6]
The name of this site means "crooked tree" and is the marker for the dive site which is located on the north-east side of Banda Besar.
Currents are strong, because here the currents of the southern and northern site of the island meet, which attracts a lot of fish.
A Sloping reef covered in corals that runs down beyond 28 metres where is flattens out.
At 26 metres there is a tall, almond-shaped, 15 metres long swim-through ranging from about 26 to 30 metres on its floor.
The interior here is lined with Barrel sponges, Sea fans and Soft coral trees which gives it an amazing look.
Coming out from the swim-through you will be drifting along the wall on the left with many Barrel Sponges, Tubastrea coral and Sea fans. Larger fish in the blue like Tuna, Bumphead parrotfish and Napoleon wrasse are common here.
There is a plateau here that has been swept bare by the currents and in the crevices you might find Scorpionfish and Ghost-pipefish. Sometimes the strong current might try to push you away from the point into the blue so hold on to the rocks and watch the Sweetlips, Black Snapper and various other individuals hang in the current. A perfect drift dive.
Pantai Lanutu - [7]
A bit more to the east from Pohon Miring there is a secluded beach that we used for our lunch break after diving here. This area offers a number of beautiful coral dive sites with the hard coral reefs that gradually ends in walls covered in Soft coral, Sea fans and Barrel sponges. On flatter sections there are a lot of Staghorn corals.
Along this southern coast schools of fish such as Rainbow runners and Red-tooth triggers can be found. Napoleon and Bumphead's are also frequently encountered at most of the dive sites.
Tanjung Cengkeh - [8]
Tanjung Cengkeh is the Indonesian name for Clove Cape. There is a steep slope covered with big colourful Gorgonians, Sponges and soft corals that goes down to 30+ metres.
Great visibility with, when we were diving, mild currents, and a water temperature around 28°C. So many different colourful life around here like the Royal angelfish, Goldenrim surgeonfish, Redlip parrotfish and many different species of Butterflyfish.
Many times there are Napoleon wrasse and Bumphead parrotfish passing by.
Batu Indah - [9]
The name of this dive site means Beautiful Rock. Currents can be strong, depending on moon phase and weather conditions, and again a water temperature of around 28°C.
The rock does not have much coral and none on the site where currents have much influence, but is teaming with small life. Different species of small crustaceans, Ghost pipe-fish, Banded pipe-fish and more for the divers with the special eyes to be found here. Also you can see Batfish, including the Pinnate Batfish, Butterfly fish, Pipe-fish, Groupers and much more..
Tanjung Nama - [10]
This cape has a steep wall that goes done to 30 metres where it flattens out to an area whit a lot of Staghorn corals.
The wall is covered in Soft coral, Sea fans and Barrel sponges with lots of different coloured fish. The south side of Banda Besar is very nice and there is a big chance that you are the only one(s), together with divers who joined on the boat, diving here.
Batu Belanda - [11]
According to local history this is the place where the Dutch first set foot on the ground coming to the Banda islands in 1599, hence the original name Dutch Rock.
The rock sticks out from the coastal wall and is on the western side of Banda Besar. This wall does not have a lot of coral growth since there is a lack of regular sunlight. There is a cave at 13 metres where sun rays burst through a shaft in the ceiling to bring light to the area. In the cave Soldierfish and Moontail bullseyes swim around and on the flour there are Nudibranchs and Red-fire gobies.
The wall has many Barrel sponges, green Cup corals, yellow - blue and violet Sea Squirts and small orange Soft corals. Scorpionfish, Black-spotted morays and Orangutan crabs are common, do not forget to check out the Whip corals for their symbiotic Shrimps. There are Napoleon Wrasse's in the area, but this dive site is famous for the presence of the Lembeh sea-dragon, if you can find it...
Pulau Hatta - [12]
This island, named after Mohammed Hatta Indonesia's first vice president, was known as Rozengain during the Dutch colonial era and changed in Hatta when Indonesia became independent officially in 1949, but according to Soekarno in 1945.
Hatta is 25km away from Banda Neira and, depending on the amount of horse-power of the engine, will take you 1 or 1½ hour by boat.
We went to the island twice and did 4 different dives, all amazing with a beautiful pristine reef, accept for Karang Hatta, but that site has other perks.
There is a slope with brown Soft corals and Leather corals which is replaced by a vertical wall at around 14 metres with huge Sponges and loads of Soldierfish around. The wall is close to the surface and drops down well over 50 metres and more.
Further along the north coast, there is a sinkhole very close to the reef wall that cuts into the reef flat and drops down about 4 metres forming an archway where lots of Orangutan crabs can be found. The deeper wall is the place to see Eagle rays, Snappers and Black-tip sharks and on the many ledges are Giant clams and used by Hawksbill turtles as resting place. During the end of your dive you can drift along the shallow reef flat atop the wall where the marine life really bursts into colour.
Beautiful Coral, lots of Featherstars, Triggerfish, Wrasse, Striped catfish and many different species of Damsels living in symbiosis with a variety of Anemones.
Karang Hatta - [13]
This hardly submerged reef, known as the Skaru atoll, is located south-east of Pulau Hatta and these dive sites are the ones closest to the 5900 metres deep Banda trench. Therefore very interesting diving and the chance to see big pelagic's are the best here. The southeast corner of the reef is a good place to start your dive as it generally has a southerly current, which attracts fish in their thousands. The sloping reef here allows you to dive at pretty much any depth, but 25 meters is where most of the action seems to take place.... Schooling Trevally, Barracuda, Tuna, White and Black-tip Sharks are around.
While we were diving we did not encounter sharks, but a couple of other divers saw one. There is the chance to see bigger Sharks like Hammerheads and the Grey-reef Shark, but that's when you are lucky. We did see a couple of Turtles on this underwater mountain. The reef flats had been bombed years ago but are showing signs of recovery already.
Run - [14]
Run Island, one of the smallest of the Banda Islands, is 3km long and less than 1km wide. This island played an important role during the spice wars between the Dutch and English, which ended in 1667 with the treaty of Breda where Run was officially given to the Dutch, see history Banda islands.
Thanks to its remoteness, Run and the little island of Nailaka offer outstanding reefs and large amounts of fish. The currents can be strong around here.
There is a sloping reef that changes into a wall at 5 metres down to 30 metres.
The wall is covered in a range of beautiful corals with some huge Sea fans, a variety of colourful coral fish and there are several overhangs to explore.
Schools of Snapper, Fusilier, Sweetlips, Blue-spotted stingray and so much more to be seen here.
From Banda Neira this is a long trip, 2 hours to get to Run and Nailaka, but during your lunch break on the white beaches of Nailaka, you realize it is worth the trip.
Nailaka - [15]
This is also a beautiful wall dive with pristine coral reefs. The currents can be strong, but it is a great drift dive. The wall drops down from 10 to 30 metres and there a large Barrel sponges with some Murray eels hiding in them.
While diving here we encountered a big "herd" of Bumphead parrotfish, must have been at least 18 of them. At the end of the dive you are just drifting along a healthy reef teeming with life.... Great dive sites so worth the effort, the 2 hours boat ride mentioned in description Run Island, to get here.-
Suanggi Selatan - [16]
Better known as Manuk Island and is located 20 km northwest of Bandanaira.
The boat will only go when conditions are right; unfortunately this was not the case when we were there, and with enough divers. Live-aboard's on their spice island tours will only go to the island when conditions are favourable.
This sulphurous volcanic island is uninhabited and far from human impact. Once underwater the hot rocks and ascending bubbles are another reminder of this volcanic activity. Currents can be strong but, therefore, a lot of fish and large predators including occasional Hammerheads, if you are very lucky, are awaiting the divers. Another attraction are the Sea kraits around here.
Suanggi Barat - [17]
We have not been diving here and the information we have are from the people from the dive shop, see Suanggi Selatan.
Suanggi Utara - [18]
We have not been diving here and the information we have are from the people from the dive shop, see Suanggi Selatan.
Batu Payung - [19]
Pulau Ai or Ai Island has some small limestone cliffs on its southern coastline and some beautiful beaches on its northern shores. This low lying island to the west of Banda Neira offers top dive sites, because of its isolation with deep waters and steep walls.
On the west coast is this dive site which name means Umbrella Rock.
Strong currents, depending on moon phase and weather conditions, can occur here.
There is a steep wall that drops down 60 metres and the bigger pelagic's are here; Giant and Blue-fin Trevally and Chevron Barracuda hunt here in large schools.
This should be a place to see the bigger sharks like the Silver-tip and, if you are amazingly lucky, Hammerheads.
The shallow reef parts are covered in Barrel sponges, olive Vase sponges, Tubestraea corals, Gorgonian fans and teeming with life.
Every coral head or Anemone seems to have its own residents, whether it be Hawkfish, Grouper or Anemonefish. Large shoals of Triggerfish, Fusilier's, Goatfish, Rainbow Runners, Batfish and plentiful cleaning stations to be found here.
Always very nice to position yourself near such a station to see the Blue-streak cleaner Wrasse's feasting on the parasites of the fish.
Batu Udang - [20]
Batu Udang, or Shrimp Rock is located on the south side of Pulau Ai. Here you find a sloping reef down to 13 metres that is followed by a very steep slope down to 55 metres. You are surrounded by schools of Black and Red-tooth Triggerfish...they are everywhere.
Also around are Maori Wrasse, Pinnate Batfish, Black and White Snappers and black and white snappers. At the deeper part of the wall large schools of Blue-tail Unicornfish circle around and this is the place for White-tip reef Sharks, Eagle Rays Hawksbill Turtles.
The last part of the dive you can drift along the reef flat over limestone covered in beautiful corals.
Api - lava flow - [21]
Gunung Api is a small volcano island lying just across a small strait, to the west of Banda Neira. Its last volcanic eruption took place in 1988, and hot molten lava streams flowed down its north-eastern and northern slopes into the Banda Sea, destroying the existing reef system, see climbing Gunung Api.
After a time the lava cooled and set like a 200 metre wide concrete path on the reef substrate. The regrowth rates here have been phenomenal, the size and conditions of the coral formations are staggering, especially when one considers that they have only being growing since 1988.
Contrasting the existing formations of neighbouring Gunung Api reefs that were not exposed to lava with the new reef, it is clearly evident that a natural wonder of global proportions has occurred at the Banda Islands.
The northernmost flow of lava on the north east coast of the island is the best place to dive. In the shallow part you will be amazed by the densely packed corals like huge Table corals, Warty-finger corals, Bottle-brush corals and the Acropora corals. Deeper, from 20 down to 35 metres, Cabbage-leaf corals take over the scenery.
Fusiliers, Green-snout Parrotfish, Clown and Black Triggerfish, Cuttlefish are a common sight here. Rocky outcrops breaking up the landscape, covered in corals and Feather-stars with loads of Anthias and Damsels swimming all over.
In the deeper part you might encounter large Napoleon Wrasse, schools of Batfish and, during upwelling conditions bringing in rich planktonic water, the pelagic's are likely to visit. Mobula Rays like to feed on the rich plankton and there will be Dogtooth Tuna together with Blue Trevally on the hunt.