Bangka islands - North Sulawesi
The Bangka Archipelago consists of a group of islands off the coast of North Sulawesi. These islands are:
Bangka, the largest, Gangga, Talisei, Kinabohutan, Tindila and the little island just offshore the mainland Tamperong.
There are four villages on Bangka Island, but there is no road.
Best way to visit one of the villages is by boat or, for the more adventurous people, go hiking through the forest.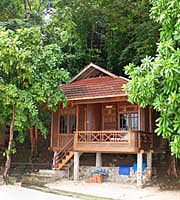 There is a dive resort on Gangga island and a couple of dive resorts on the biggest island, Bangka, but they are all more or less secluded from each other.
Bangka island has sandy bays and rich tangles of tropical vegetation which frequently give way to mangrove areas and then to the ocean itself.
You can go directly by car from the international airport, Manado, to the Bangka archipelago.
This will take around 2 hours to the remote village of Likupang, where a boat will take you to either Bangka or Gangga island, 20 minutes.
Another way of transportation to the Bangka archipelago is by boat from Manado, Bunaken marine park - 4 hours - or from Lembeh strait.
A dive holiday in North Sulawesi can easily be divided between the Bunaken marine park and the Bangka archipelago or Lembeh strait or both. We can arrange any combination you like to make.
Dive conditions Bangka archipelago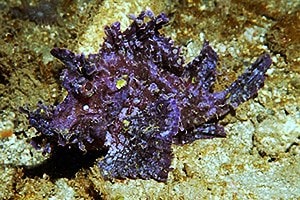 The Bangka Archipelago offers steep drop-offs, slopes and sharp Coral pinnacles covered in beautiful soft Corals and some magnificent soft Coral gardens.
The islands are quite exposed and often get strong currents and the surface condition can be rough.
Especially between July and September there can be strong currents and surges with high waves, with a negative affect on the visibility.
The water temperature is around 27°C.
Best time to dive is between March - June and between October - December when visibility can be up to 35 metres.
The dive sites, located around the islands and along the mainland coast, offer a great diversity like pinnacles, rocks, slopes, a few walls, and caves. Fixed fauna is impressive with very nice colourful soft Corals and Sea fans.
The almost undamaged marine life includes all kinds of Scorpionfish, Frogfish, Pipefish, Triggerfish, Eels, Seahorses, Nudibranchs and much more.
Then you may encounter the bigger marine life like Trevally, Tuna, Rays, Sharks, Turtles and Napoleon wrasse.
Shark numbers are decreasing at a shocking rate.... What all people, especially divers, should know about the shark population.
Dive sites Bangka island
Use the map to jump to the dive site:
House reef resort - [1]
This bay is covered in hard and soft Coral with lots of Anemones and inhabitants. The flat reef continues in a sloping bottom, with Coral outcrops, down to a depth of 35 metres.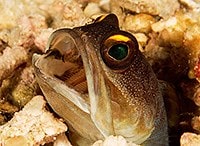 Currents pick up when you go out of the seclusion of the bay and vary with the tide and weather conditions.
Take a good look around and you can find Jawfish, Scorpionfish, Ghost and Ringed Pipefish and much more.
In the bay you will find an abundance of hard and soft Corals with a variety of colours and lots of Anemones with their inhabitants. Great site for night diving and snorkeling.
Batu Sahaung - [2]
Only 10 minutes by boat this site consists of a series of large underwater pinnacles that break the surface.
The current can be strong and visibility is around 15 metres. The depth is between 5 and 40 metres. There is so much marine life and an abundance of soft Corals; you will need to dive this site more then once. Sahuang has it all, from big to small.
The pinnacles are surrounded by Snappers, Surgeon fish, Fusiliers, Batfish, Angelfish and red-tooth Triggerfish.
Small White-tip reef sharks might be hiding under the Table corals.
Take a good look at the coral covered pinnacles and you may see Moray eels, Frogfish and, for divers with a trained eye, the Pygmy Seahorse in the sea fans.
Lagoon Sahaung - [3]
Here you will find a beautiful soft Coral garden which slopes down to 30m. There are small walls covered in all kind of coloured Corals. You will see all kinds of small reef fish and there is a good possibility to spot the Mandarin fish.
Tanjung Toto - [4]
On the surface there are two small rocky pinnacles rising up from the sea. The bottom is full with coral covered rock slabs and patches of hard Coral on a white sandy bottom.
The depth is around 20 to 35 metres and currents may vary.
Again lots of marine life like Trevally, Scorpionfish and Moray eels, just to name a few. Just circle around the pinnacles and you can find amazing stuff.
We are not sure, but this might be the spot were we saw this huge Yellow nudibranch, called Banana Nudi by the diveguide.
Batu Gosoh - [5]
The wall drops of to 45m with vertical cracks, caves and pinnacles rising up from the bottom.
Currents can be strong with a visibility between 20 and 30 metres.
Here you can see schools of Batfish, Bannerfish, Butterfly fish, Sweetlips and Red-tooth triggerfish. Look out in the blue and you might spot White-tip reef sharks, Mackerels and Dog-tooth tuna.
Batu Kapal - [6] - Airplane wreck - [7] - Tanjung Usi - [8]
Other great dive sites around Bangka Island are no. 6: Batu Kapal, no. 7: the Airplane Wreck and, next to the Bangka resort house reef, no. 8: Tanjung Usi.
Dive sites Talisei island
Tanjung Arus - [9]
This is the most northern part of the island - 30 to 45 minutes by boat from one of the resorts. Tanjung Arus - Cape Current - hence the name can be prone to strong currents and therefore can be an advanced site.
Tanjung Arus, with a variety of soft and hard Corals that drops off to 30m and more, has an amazing cave. Small fish like the Leaf-scorpion fish, and bigger animals like Napoleon wrasse, Bumphead parrotfish, Tunas even Sharks are regular visitors here.
Talise Pinnacle - [10]
Just around the corner you will find this site with a beautiful Coral garden. The maximum depth is 30m. Currents vary from mild to strong and the visibility is around 20 metres.
Lots of different Nudibranch species around here and the occasional Sea snake may pass by.
Air Banua - [11]
This is a wall covered in soft Coral and beautiful Gorgonians and drops down to 30m and more. Variation of marine life from the big Napoleon wrasse to the smaller animals like the Ghost pipefish.
Dive sites Gangga island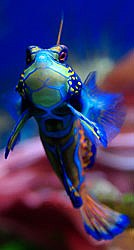 Lehaga islands - [12]
This is a garden filled with soft and hard Corals which slopes down to 25m.
Currents depend on tide and weather condition and can be strong. There are many different Anemones with their inhabitants and, when you dive early in the morning or at sunset, you may see the Mandarin fish.
Search the bottom for the burrow of a Mantis shrimp and you might get lucky. Other animals to see here are Leaf scorpionfish, Bumphead parrotfish, Ribbon and Moray eels.
Gangga islands - [13]
This is a volcanic slope covered with soft and hard Corals and big Sponges. An abundance of small reef fish and special Pipefish live around here.
Dive sites mainland North Sulawesi
The main land of North Sulawesi, opposite the Bangka archipelago, has a number of dive sites that are worth a boat ride from one of the islands. We will describe a few :
Pulisan - [14]
Beautiful house reef that consists of rocks peaking out on the surface and a sloping white sandy bottom covered in patches of Corals and Sponges. The bottom slopes down to 25 metres with a visibility of 20m.
There is an enormous variety of reef fish, Nudibranchs, Crustaceans and other marine organisms.
Batu Mandi - [15]
Great pinnacle dive with a sloping wall covered in soft Coral, Sponges and Sea Fans. The depth is between 5 and 30 metres with a visibility around 15 metres.
Here you can find an abundance of macro life. Nudibranchs, Spanish dancers, Giant frogfish, Cuttlefish, and Blue-ringed octopuse are regular inhabitants.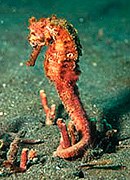 Paradise jetty - [16]
This site, around the jetty, has a white sandy bottom which gradually slopes to a depth of 15m. Here you will find a variety of animals common for a 'muck dive'.
You can see Frogfish, Seahorse, Leaf scorpionfish, Shrimps, various kinds of Moray eels, Snake eels, and with luck a Mimic octopus.
Around the corner to the south, direction Lembeh strait, there are more dive sites like Batu Pendeta, Poteng and Batu Putih......