The 3 Gili's: Air, Meno and Trawangan
Lombok is still the most popular destination in Nusa Tenggara,
with the fabled "Gili's" - meaning Air, Meno & Trawangan - drawing visitors for action both in and out of the water.
These islands, Gili in the indigenous Sasak language means Island, are located to the north-west of Lombok, heading towards Bali.
It takes about an hour to reach them from Senggigi Beach in Lombok.
From west to east they are named Gili Trawangan, Gili Meno and Gili Air.
These are tiny islands surrounded by white sandy beaches and covered with palm trees.
Here you can admire the sunset over Bali's Mt. Agung and the sunrise over Lombok's Mt. Rinjani. There are no motorized vehicles on the islands and the main transportation is done by Cidomo, small horse drawn carriage, or bicycles.
For traveling to and from each of the Gilis, locals usually use motorized boats and speedboats. Resorts take the form of bungalows overlooking the sea.
Gili Trawangan is the largest and most visited of the islands with more nightlife than Gili Air and Gili Meno, which are quieter in general.
Since 2011 during high season in July-August, the accommodations on the islands were fully booked, and at times people were forced sleeping on the beach.
The last years there has been a building boom going on so now, 2017, there are many more places to stay, but we recommend you to avoid these high-season months or book early.
If you like the more tranquil island experience during the high season, then your choice should be Gili Meno.
From Bali the islands can be directly reached by fast boats; they depart from either Padangbai - 1¼ hours, Amed - ¾ hours, Sanur - 3¼ hours with a stop at Nusa Lembongan - or Serangan - 2¼ hours - harbour.
The boat ride can be quit rough during the windy season June-July, not for people susceptible for sea sickness!
Sometimes the service can be canceled, due to bad weather conditions the fast boats will not run.
Then there are different ferry services to Lombok, but they bring you either to Senggigi, which is still an 1 hour boat trip away from the Gili's or to the harbour of Lembar in Lombok. From Lembar it is another 1½ hours car/bus ride and a 15 minutes speed boat trip to the Gili's.
The last option is to fly from Bali to the new - officially opened 1 October 2011 - Lombok International airport, IATA code is LOP, near the city of Praya.
From there its a 1½ hours scenic car drive to the coast followed by the 15 minutes boat trip to the Gili's.
Dive conditions 3 Gili's
There are more than 15 dive sites around the islands and more reefs are being explored all of the time.
Dives in the Lombok Strait can have fierce currents and encounters with big marine life like Manta rays - October-February, Eagle rays, Sharks, Snappers and Turtles.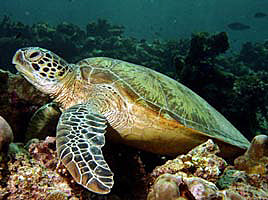 Still most sites are suitable for beginners, but there are some that are even challenging for advanced divers.
There are possibilities to do shore dives, but most sites are reached by boat.
The water temperature depends on the location of the dive site since there are thermoclines and cold upwelling's, but has an average of 25°-26°C.
Snorkeling is also good around the three islands. The topography of the sites consists of reef slopes, walls plateaus and caves.
Visibility is between 10 and 30 metres and depends on the weather conditions. See also the detailed weather graphs.
Best months to dive are from April until October during the dry season, but diving is possible all year round, as always, depending on weather conditions.
Shark numbers are decreasing at a shocking rate.... What all people, especially divers, should know about the shark population.
The Gili Trawangan dive sites
This is the largest of Lombok's Gili's and is the only one to rise significantly above sea level.
It is 3km long and 2km wide with a population of about 1000 people.
The main strip, on the east side of the island, is full with accommodations, restaurants and dive shops all within walking distance.
All of the dive sites around the islands can be reached from any of the three islands but this one is the most popular.
There are 12 artificial Bio Rock projects, a turtle sanctuary and snorkeling access from the beach around the island.
Use the map to jump to the dive site :
Halik Reef - [1]
Located on the North of the island this site has a slope, covered in soft and hard Corals that drop down to 25 metres.
Beautiful formations of hard Coral are found in the shallows, along with Lionfish, Fusiliers, Bannerfish, Moray eels, Coral groupers and Bumphead parrotfishes - around full moon.
In the deeper parts there are channels that are visited by local Green or Hawksbill turtles and you might spot a White-tip reef shark here.
Deep Halik - [2]
These series of deep reefs and channels is the deeper part of Halik reef and with a depth of 40 metres suitable for advanced divers. Currents vary from moderate to strong with a visibility between 15 and 25 metres.
Good variety of Corals on the reefs and a variety of marine life is to be found here. Trumpetfish, different types of Groupers, Batfish, Triggerfish, Eagle rays and the occasional Black and White-tip reef shark can be around.
Shark Point - [3]
Situated on the West is the most popular site of the island suitable for all divers. There is a sloping reef, with a series of ridges at 18, 20 and 25 metres, leading into deeper water, 40 metres and more.
This makes it a site that can be dived as a deep dive, mid-water drift dive and Coral exploration in the shallow part.
The currents are moderate with a visibility between 5 and 25 metres, all depending on weather conditions.
This site has a lot of Corals and beautiful Sea fans along the wall and excellent for viewing the larger marine life.
The name comes from the Reef sharks found in the canyons. You can see Cuttlefish, Stingray's, lots of Turtles in the shallows, and every full moon it is a favourite hangout for a school of huge Bumphead parrotfish. Large Rays sometimes pass by as well as schooling Trevallies.
Sunset - [4]
This is normally done as a drift dive towards Manta Point. The depth ranges between 5 and 25 metres and visibility is between 10 and 20 metres. The reef is marked by giant steps of Table coral which offers shelter for many fish. Bannerfish and Moorish idols decorate the reef and there are plenty of Sweetlips around.
On the sandy bottom there is lush vegetation and patches of soft Corals. Here you may find White and Black-tip reef sharks, Stingray's, and Turtles. During the rainy season, November - February, when the water is rich in plankton, you could have the chance to see passing Manta's.
Manta Point - [5]
During the rainy season the Manta rays migrate to this area when the water is rich in plankton. This means the visibility might drop to 5 metres during this time, November - February, due to the weather and again the large amounts of plankton.
On the south-side of the island this gently sloping reef goes down to 30 metres and has rarely any current.
There is a good variety of hard and soft Corals with large Table corals sheltering the fish. You will find Cuttlefish, Octopus and many times Turtles and the White and Black-tip reef sharks around here.
Stingray - [6]
A gentle slope east of the island, that starts with a flat reef top between 3 and 5 metres and ends in a sandy bottom around 20 metres. The visibility is between 10 and 25 metres and here you find a large variety of soft and hard Corals.
Fish population is diverse with Sweetlips, Groupers, Snappers and lots of Damselfish. Of course there are Stingray's out here.
Shallow Turbo - [7]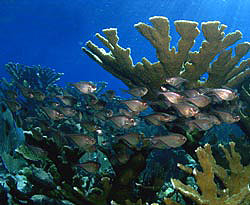 This dive site, located along the east coast of the island, covers quite a large area.
Start in shallow water and follow the slope, which has terraces that get gradually deeper, to a plateau at about 24m.
The current varies between slight and moderate and visibility is around 15 metres again depending on weather conditions.
The sandy bottom has an assortment of hard and soft Coral gardens, so enough to see while diving here.
Do not forget to take a good look at the overhangs which are filled with Soldierfish and Copper sweepers.
You will also see numbers of Green turtles and Hawksbill turtles eating Hydroids. Along the deepest parts of the dive site there are White-tip reef sharks, Giant trevallies and schooling Barracudas.
Deep Turbo - [8]
This site has a series of reefs and channels that rise up from the sandy bottom starting at 35 metres up to 18 metres.
These reefs have interesting overhangs and outcrops and are covered in Sea fans, Sponges and Corals.
Current varies from moderate to strong during tide change; when the current is rushing you might see Bumphead parrotfish and schools of Jacks.
Small fish cover the Coral outcrops while Garden eels occupy the sandy bottom. Look out for Barracudas, Rays, White and Black-tip reef sharks and, if you have your lucky day, you might spot a beautiful Leopard shark!
The Gili Meno dive sites
Situated in the middle this small island has only a few hundred residents.
There is a small salt water lake which has small dykes for salt-mining during the dry season between May and October. During the raining season there can be a lot of mosquitoes around which can carry the Malaria parasite.
This island, even during high season, is still an unspoiled little paradise, but over the last years new accommodations have been added - 2016.
The hotels and bungalows are located along the southeastern coast with a nice view over Gili Air and Mt. Rinjani in the east.
The best place for snorkeling is the northeastern coast, near the Blue Coral Bungalow, which has its name from the blue coloured Corals just offshore. The reef offers a big variety of Coral species and small colourful fish.
Meno Wall - [9]
The soft Coral covered wall drops down to 25 metres with a visibility between 15 and 25 metres and home to a variety of Crustaceans. The current is usually mild, but can pick up at low tide.
Along the reef you will see Firefish, Soldierfish, Anemonefish, Groupers, Sweetlips and Snappers all in large quantities.
Green and Hawksbill turtles are usually feeding along the wall and will hold their positions in the current as you gently drift by.
This is said to be a great night dive with a chance to see Spanish dancers - Hexabranchus sanguineus - and Cuttlefish.
Meno Slope - [10]
Located on the north-west side of this island you find this reef - about 300 metres long - it starts at 3 and drops down to 22 metres and is covered with soft and hard Corals.
This drift dive along Meno Slope is usually quite a joy ride as the current can be strong. Here you can spot Eagle rays, Turtles, Snappers, Triggerfish, Moray eels, Banded sea snakes, White-tip reef sharks and Giant trevallies.
At the end of your drift dive you can see a sunken pontoon at 12 metres full of interesting marine life and schools of reef fish.
On and around the pontoon you will find a variety of Scorpionfish and Lionfish, along with various Nudibranchs.
Gazebo Reef - [11]
This site is just in front of the Meno harbour on the east site of the island. Here you have a gentle sloping white sandy bottom with patches of Corals and rocky outcrops.
Gazebo reef starts at a depth of 5 metres and slopes down to 18 metres and more. The visibility, depending on weather conditions, is between 15 and 25 metres.
Here you will find Moorish idols, Angelfish, Scorpionfish, Parrotfish and look on the bottom for the tell-tale hole of the Manta shrimp. In reef holes and crevices you are likely to spot Moray eels.
Simon's Reef - [12]
Located to the north this reef is independent, therefore different, from the reefs closer to the islands. The bottom is around 30 metres and has canyons and huge Coral covered mounds of different sizes with interesting overhangs.
Current depends on the tide, during slack the current is slow and visibility between 20 and 30 metres.
The channels in between funnel the currents, concentrating large numbers of bigger reef and schooling fish species, such as Snappers, Trevallies, Jacks and Tunas.
You might also see Parrotfish, Angelfish, Triggerfish, Sweetlips, Cuttlefish, Octopus, White and Black-tip reef sharks.
Takat Malang - [13]
A little higher up north there is a plateau starting at 10 metres and drops down to 40 metres with lots of canyons and channels. The blue water and brilliant white sand bottom provide a gorgeous backdrop and visibility can be up to 30 metres.
Currents vary between moderate and strong which means lots of marine life around, but also during slack tide a very interesting site. The overhangs and mini walls throughout the area have large Sponges, Sea fans and more soft and hard Corals.
Mantas, Blue-spotted stingray's, Scorpionfish, Lionfish, and White-tip reef sharks have been encountered here as well as the Spiny Lobster.
The Gili Air dive sites
This is the first of the three Gili Islands off the north-west coast of Lombok.
It has the largest population of the 3 islands and most of the accommodations are located on the south, west and east side of the island.
The island remains quiet and relaxing although since 2015, during high season, there are parties on Saturday night.
There is a small Turtle hatchery here to protect the local Hawksbill and Green turtle population.
Plenty of good snorkeling spots around the island and a number of good dive sites.
Air Wall - [14]
Situated on the west side of the island this wall starts at 6 metres and drops off to 30 metres with some good Coral formations and overhangs. Currents vary from mild to moderate and visibility is between 15 and 25 metres.
Explore the overhangs and you might spot Octopus and Moray eels. At a depth of 22 metres there are concrete blocks with a couple of cleaning stations.There are Shrimps, Pipefish, White-banded cleaner shrimps and thousands of Glass fishes around and if you know where to look you might spot a Leaf scorpionfish.
In the deeper parts you will find White-tip reef sharks, Lionfish, Triggerfish and the stunning six-banded Regal angelfish.
Frogfish Point - [15]
On the east site there is a Coral garden at the top reef around 5 metres that continues in a wall down to 20 metres with sandy patches in between.
These sandy areas are inhibited by Garden eels and on the Corals are lots of Anemones with their protective Anemonefish.
This is the site to find the famous Frog or Anglerfish, but they are masters of camouflage therefore hard to spot.
Keep your eyes open because there is more to see around here like Seahorses, Ghost Pipefish, Nudibranchs, Scorpionfish and Mandarin fish.
Hans's Reef - [16]
North of the island is a sloping reef of hard Corals and rocky outcrops on a white sand bottom.
The depth is around 25 metres and visibility between 15 and 25 metres.
There are a lot of juvenile fish around such as Batfish, Angelfish and Boxfish. Look for Frogfish, Leaf scorpionfish, Seahorses, black-spotted Moray eels, Pipefish, Mantis shrimps and a variety of Nudibranch species.