Bunaken - North Sulawesi
The Bunaken National Marine Park, established in 1991, covers a total surface area of 891 km². The islands Bunaken, Manado Tua, Nain, Montehage, and Siladen, as well as a coastal area of the North Sulawesi mainland are part of the park.
The Pacific Ocean, the Sulawesi Sea and the Indian Ocean join here and by doing so bringing a wealth of nutrition into the area.
The waters of Bunaken National Marine Park are extremely deep, 1566m in Manado Bay, and harbour some of the highest levels of biodiversity in the world. The Bunaken National marine park is definitely in the top ten of best dive locations in the world!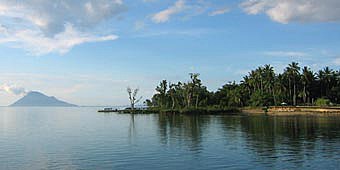 Pick any group of interest - Corals, fish, Echinoderms or Sponges - and the number of families, genera or species is bound to be astonishingly high.
The abundance of hard Corals, builders of the reef, maintains the high level of diversity of marine life in the park.
Specialists claim that in Bunaken National Park alone, one can find over 58 different genera and sub-genera of Corals and an estimated 2000 species of fish. This count becomes even higher if you add the extra species that can be found in the Bangka Archipelago and Lembeh Strait.
There are possibilities to stay on one of the islands in a resort, but we prefer the mainland. In 1996 the writer of the "diving guide", Kal Muller, wrote: "We think that building even a small operation in the middle of a nature reserve is, at best, misguided, and do not recommend divers staying here."
Well that was 1996 and now there are numerous dive resorts on Bunaken and Siladen island, you cannot stop progress for better or worse. We prefer staying on the mainland so we have the best of both worlds;
diving around the islands and the coastal areas of Manado.
Dive conditions Bunaken
North-Sulawesi's Bunaken marine park can be dived year round but the best time is between April and November. With a visibility between 20 and 30 metres, the water temperature 26-30 °C and the diversity of marine life, it is high end diving!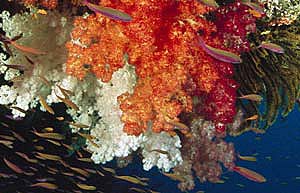 All visitors to the Park, divers and non-divers, are required to pay an entrance fee. There are daily tickets available, but if you are diving here you need a year permit, which cost IDR 150.000.-, and helps protecting the park.
The area has enough to offer for beginning and experienced divers.
Diving in and around Bunaken is mostly wall diving and drift diving, but also includes several beautiful Coral slopes.
Flat reefs sloping down to form underwater valleys or vertical walls plunging hundreds of metres down.
Many large caves with hanging masses of Coral and a tremendous collection of sea life. Your safety / decompression stops in the shallows at the end of your dives will never have a dull moment due to the abundance of marine life.
From the main land it will take around 45 minutes to get to the dive sites at Bunaken.
It is quite common to make 3 dives in the area and enjoy your lunch on the boat.
Shark numbers are decreasing at a shocking rate.... What all people, especially divers, should know about the shark population.
Dive sites Bunaken
Use the map to jump to the dive site :
Lekuan 1 - [1]
This site has steep walls down to 35 metres, with some nice crevices and ledges, and an amazing Coral growth with giant Barrel Sponges, Black Corals, Gorgonians, and Ascidians.
The visibility varies between 10 and 30 metres and currents can be strong.
In the deeper parts you might spot a White tip reef Shark.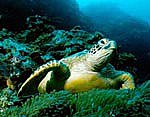 There is a good chance to have an encounter with a couple of Green Turtles. There is one hard to miss because it is enormous - nearly 2 metres - and has a tendency to rest on one of the ledges. This site gives you a chance to dive with dense populations of bigger reef fish like Snappers, Bumphead Parrotfishes, Jacks, Emperors and Groupers.
Take a close look at the wall because we have seen Leaf Scorpionfishes, Crocodilefishes, Mandarin fishes and a Ghost Pipefish.
Lekuan 2 - [2]
Also here you have a steep wall covered in Corals and many Feather Stars. Visibility is usually between 20 and 35 metres and deeper than Lekuan I.
Currents can be strong and sometimes you have down currents.
Here you find very deep parts and some interesting coves and shafts to cut across.
Excellent numbers and variety of almost all kinds of reef fish as well as an outstanding invertebrate life.
Lekuan 3 - [3]
First a sandy bottom with pinnacles and rock formations which slopes down into a vertical wall with caves, that drops down over 200 metres deep. This is one of the best places to see White and Black tip reef Sharks.
If you are lucky you might see Barracudas, Turtles and even Manta Rays.
Celah-Celah - [4]
The reef top is very sheltered with hardly any current and has many different shapes of hard Corals. The deep wall, depths from 5-30 metres and more, has a lot of cracks and crevasses and normally an excellent visibility.
The many Sea Squirts and Algae on the wall are a spectacle to watch and also attract all kinds of interesting creatures.
Many reef fishes like Butterfly, Parrot and Surgeon fishes are swimming around here.
This site is excellent for night diving!
Alung Banua - [5]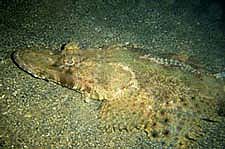 Following this wall to the East brings you, at a depth of 20 metres, to a couple of small caves. Currents are usually mild and visibility is an average 25-30 metres.
Photographers like this site for the special creatures like the Crocodilefish, Leaf Scorpionfish, Ghost Pipefish and Frogfish.
This is also a good spot for night diving and the mild conditions are ideal for beginning divers and snorkelers.
Fukui - [6]
This site has no wall but a reef top at 3m that slopes down with several short, steep drops covered with hard Corals. Maximum depth is 22m and there is little to no current.
There is a cleaning station here which is regularly visited by two resident Napoleon Wrasses and other fish. It's a day-time job for the Cleaner Wrasses.
There are many schooling fish her like Spadefish, black Snapper, Jacks, Sweetlips and large Titan Triggerfishes. On the sandy bottom are Garden Eels and 5 Giant Clams.
Ron's Point - [7]
Situated at a point where two currents meet, this is an advanced dive due to its depth and the strong currents.
These are the conditions to meet the big stuff like Black tip reef Sharks, Barracudas, Tunas and big Jacks. The Coral rubble is home to Eels, Ghost Pipefishes, and lots of Anemones.
Mandolin - [8]
This coloured wall is located in the passage between Bunaken and Manado Tua.
It has often strong currents and is very deep from 20-45 metres and more. Between 20 and 45 metres you have to be careful not to get entangled in a forest of Whip Corals and watch your depth!
In the deep are small caves with beautiful Gorgonians. We love this site for its fast drift diving and the variety in marine life, every dive you see something different.
At the end of your dive the wall transforms into a carpet of Sponges and hard and soft Corals.
See if you can find Porcelain Crabs on bubble Coral or other small Crabs on soft Corals.
Tengah - [9]
This site is located in the middle - tengah means in the middle - at the West side of Bunaken and starts from the reef towards the open sea.
During slack tide you can choose where you want to go, but when the current picks up you are in currents hands, do not fight it, just enjoy!
You will see Yellow tail Fusiliers, Parrotfishes, Batfishes, Jacks and sometimes White and Black tip reef Sharks.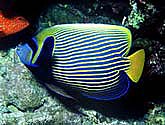 Raymond's Point - [10]
This is a deep wall with lots of soft and hard Corals and again a cave and many Whip Corals.
The currents are usually strong and it might happen that you started your dive at Mike's point and within no time ended here.
You can find Lobsters, Angelfishes, Butterfly fishes, big Emperors, Groupers and so on. Great dive!
Mike's Point - [11]
This dive site was named after the underwater photographer Mike Severns and consists of a beautiful Coral covered wall. Huge Gorgonians and Sponges can be found along with Barracudas, Eagle Rays and White tip reef Sharks.
If you are extremely lucky, which we were not, you might see a large Silver tip Shark.
Sachiko's Point - [12]
This steep wall goes down to 40 metres and more and has usually great visibility up to 35 metres.
Caves can be found in the deeper part where White and Black tip Sharks may be found resting. The strong currents give a big chance to see Tunas, Turtles, Barracudas, and Napoleon Wrasses.
Other sea animals found here are Moray Eels, sea Snakes, Leaf Scorpionfishes, Nudibranchs, Crabs and Shrimps.
Bunaken Timur - [13]
Timur means East and that's where this site is located, East of Bunaken Island.
The site starts with a sandy slope with a depth of 5 to 10 metres and becomes a vertical wall with beautiful hard and soft Corals.
It is also a great place to do some snorkeling. Currents can be strong, but due to the length of the reef this is no problem.
It will take several dives to cover it all. The ledges and crevices are teeming with life. Look closely and you may find Ghost Pipefishes, Mandarin fishes, Leaf Scorpionfishes and lots of Nudibranch species.
Pangalisan - [14]
Here you find the same reef structure as Bunaken Timur a vertical wall in large steps, with many cracks and small caves.
With a visibility of around 20 metres and strong currents this site offers good drift diving.
The overhangs and caves are the places to see Lionfishes, Turtles and Sharks.
There are also Nudibranchs, sea Urchins, Feather Stars and lots of Anemones with their inhabitants.
You may encounter the Banded sea Krait and Stingrays.
Muka Kampung - [15]
East section of South Bunaken Island has often strong currents. This site has, again, a steep drop-off with a sandy sloping path on the tip of the reef corner.
Visibility varies from 10 to 25 metres.
The steep slope is dominated by branching Green cup Corals and Pink Hydroids and Butterflyfishes.
Lots of Black Damsels, juvenile Red-tooth Triggerfishes, Fusiliers and you might see Rays and Turtles.
In the shallow part you will find Razor fishes and, for the divers with a good eye, the Leaf Scorpionfish.
Siladen Timur - [16]
Siladen is a small island with a white sandy beach, located at the North East of Bunaken, and has 2 dive sites.
This South side offers a stunning reef which drops of into a vertical wall with a maximum depth of 35 metres. There is a large variety of marine life to be found like Butterflyfishes, Angelfishes, Parrotfishes, Groupers and Moray Eels.
The bigger stuff, Jacks, Tunas and maybe a White tip reef Shark, comes in when the current gets stronger.
This is also a very nice site for snorkeling.
Siladen Utara - [17]
This site has huge pieces of beautiful hard Corals with sandy patches and pebbles.
It slopes down to 25 metres and more.
Visibility can be up to 25 metres and most of the time the currents are strong, which makes this an advanced dive site.
Strong current means bigger stuff like Napoleon Wrasses, Bumphead Parrotfishes, Groupers, Emperors and Sharks.
Dive sites Manado Tua
The name of this island means old Manado and is actually a huge "dormant" strato-volcano. Although during a submarine exploration, searching for the Coelacanth fish - a prehistoric fish thought to be long extinct, showed volcanic activity in the deep.
The steep slopes on land, covered with Coconut trees, continue under water in beautifully covered vertical walls.
The stronger currents bring in larger marine life like big Barracudas, Trevallies and Sharks.
Pangulingan - [18]
This site has different, Coral covered, shaped reefs, walls and plateaus. The depth is from 5-40 metres and more and can have strong, sometimes down, currents. Visibility varies between 10 and 30 metres. Here you find Barracudas, Jacks, Trevallies, big Tunas and the occasional Shark.
The shallow part is densely populated with Batfishes and other small reef inhabitants.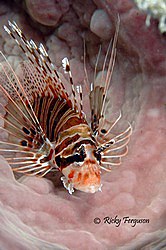 Tanjung Kopi - [19]
This site has a sandy sloping underwater plateau that descends from 5 to 30 metres.
Around 30 metres it transforms in a vertical wall that drops off to over 80 metres.
Currents can be strong and unpredictable with down currents and the visibility varies from 5 to 25 metres.
Look in the deep blue for White tip reef Sharks, dogtooth Tunas, Napoleon Wrasses, Eagle Rays and even the grey Sharks and Hammerheads.
On the plateau you can find a school of Black tail Barracudas looking for a meal. Batfishes, Triggerfishes, Sweetlips, Surgeon and Butterflyfishes are everywhere.
The best soft Coral gardens can be found on the Southern reef top of Tanjung Kopi.
Muka Gereja - [20]
This site has a beautiful wall, large Barrel Sponges, a rich Coral growth and canyons and caves. Currents are mild and visibility is up to 30 metres.
The residents are Angelfishes, Butterflyfishes, Parrotfishes and Sweetlips. You might encounter Turtles, sea Snakes, and a resting White tip reef Shark in a cave.
Negeri - [21]
This is a stepped wall with again lots of Coral growth with depths from 20 to 50 metres and more.
Currents depend strongly on the wind direction, but are usually mild.
A lot of Butterflyfishes, Angelfishes and Parrotfishes hang around here. In the shallow you can find a variety of Nudibranchs and lots of Anemones. Turtles and sea Snakes might pass you by.