Lease islands: Haruku, Saparua and Nusalaut - Moluccas
The Lease islands, formerly known as the Uliassers, is a cluster of three inhabited islands and some smaller uninhabited islets. East to west from Ambon are Haruku, Saparua and Nusalaut islands.
They are bordered by Seram Island in the north, the Banda Sea in the south and Ambon Island in the west.
The Lease Islands consist of two Kecamatan (sub districts):
Kecamatan Haruku with its capital Pelauw, Kecamatan Saparua with its capital Saparua, and one auxiliary sub district Kecamatan Pembantu Nusalaut with Ameth as its capital.
Boat in front of Nusalaut

Fort Nieuw Zeelandia - Haruku island

View from Fort Duurstede - Saparua

Old Dutch map of Fort Duurstede

Dive boat - Nusalaut

The beautiful village of Booi - Saparua

Traditional Dutch Sinterklaas celebration - Saparua

Sago production - Saparua

Road to Ooi village - Saparua

View from Molana island

Fort Duurstede - Saparua

Restaurant - Saparua town

Haria, the harbour of Saparua

Fort Duurstede - Saparua

View from Molana island
Haruku
Haruku, the closest island to Ambon, has a population of 24.170 according to the 2010 census. There are 4 Muslim villages and 7 Christian villages on the island.
Haruku receives far fewer visitors than Saparua which is situated further east, largely due to the lack of commercial accommodation.
There are some good places to visit like old forts - Fort Hoorn also known as Fort Pelau and Fort Nieuw Zeelandia - a cold water spring named Waihokal, the Air Biru Waterfall and fine beaches.
Locals still speak their native Haruku language, as well as Indonesian and Ambonese Malay.
Saparua
Saparua, east of Haruku, is the largest and most populous of the Lease Islands. During the census of 2010 its population was 32.312 the majority being Christians.
The island has plenty to offer with pleasant villages, beautiful beaches and, in the northeast, the only spot where there is still a section of tropical forest. In Saparua-town you will find the old Dutch Fort Duurstede - Benteng Duurstede - strategically located at Sapurua Bay. Next to the fort is a museum, which shows the history of the rebellion of Thomas Matulessy alias Pattimura.
The ruins of another old Dutch fort in the village of Ouw have been incorporated into local houses and is well worth a visit.
The village is also the centre for pottery where pottery is made completely by hand.
Unfortunately, parts of the coral reefs around Saparua have been destroyed by blast fishing.
There are unspoiled spots near Kulor, Booi and the uninhabited island of Molana to snorkel and to dive; and here the reefs are undamaged.
The inhabitants of Saparua speak the Saparua language, as well as Indonesian and Ambonese Malay.
Nusalaut
Nusalaut is situated just off the south-western corner of Saparua Island and is the smallest of the Lease Islands. The islands are separated by a deep channel and the coasts are fringed by a drying reef.
Around 14.000 people live on the island and the Christian population was spared during the 1999-2000 riots which plagued the rest of the region.
Many colonial style houses and churches can be found in the villages. Two churches compete for the title of the oldest church in Maluku. Nusalaut also has an old Dutch fort, Fort Beverwijk. The reefs of Ameth are still unspoiled and offers the best dive sites in the Lease Islands.
The people from Nusalaut speak the Nusalaut language, as well as Indonesian and Ambonese Malay.
Dive conditions - Lease islands: Haruku, Saparua and Nusalaut
In most of Indonesia the dry season falls between May and September and the rainy or wet season between October and April, but in the Moluccas it is reversed. Average water temperature is around 28°C and the air temperature is 27°C with high humidity - click here for detailed weather graphs.
The best times for diving in the Moluccas are March and April and from mid-September until late December.
The islands are located in the deep Banda Sea, click here for a detailed map of the water depths around the Lease islands.
Due to the depth of the sea, the waters around the Lease islands are very clear. There is excellent visibility up to 40 metres from February till May and a little less during the more turbid plankton-rich times after the southeast monsoon in August and September.
In those months there are enormous numbers of fish and more frequent encounters with larger pelagic's.


The dive sites around Saparua, Molana, Nusalaut and Haruku are as interesting as they are varied.
They offer beautiful coral gardens and steep slopes sheltering a variety of colourful fish.

Around Molana and Nusalaut there are spectacular steep slopes along the reef's edge, decorated with Cup and Soft corals, Sea fans, Sea whips and huge Sponges.
Shark numbers are decreasing at a shocking rate.... What all, especially divers, should know about the shark population.
Dive sites Lease islands
Use the map to jump to the dive site :
Kulur Pier - [1]
This concrete pier is a great attraction for young locals who go there in the afternoon to play and swim. We had to divide our time between exploring and diving, therefore we did not dive this site.
Unfortunately we could not find any information about this dive site, but, like all piers it has to be an interesting place to dive or snorkel.
Itawaka - [2]
Itawaka has a sloping reef with very good visibility. The reef has sustained some damage, but overall it is a great site with a variety of marine life.
White and Black-tip reef sharks are frequently spotted here.
Ameth - [3]
The clear, sandy sea floor starts at 12 metres and slopes down. There is plenty to see at 25 metres, but you need to go a bit deeper for sharks and Kuhl's bluespot stingrays.
It is famous for its diversity of reef fish species, and its varieties of healthy hard Corals.
The main reef slope is made of Brain corals, Pore corals, and small Acropora and Table corals. Then there are many Vase, Tube and Barrel sponges with Featherstars hanging on to every available surface. Many different species of Butterflyfish, Angelfish, Surgeonfish, Groupers, Anthias and even Giant flatheads are to be found. When the conditions are right it is like diving in a huge aquarium, beautiful.
Arch - [4]
This wall is covered in orange Dendronepthya corals and has a large exit hole at 13 metres that leads into the Banda Sea.
The wall drops down to a 100 metres where some of the lesser known snapper species can be found such as the Pygmy snapper, the red Mangrove snapper, as well as huge Napoleon wrasse and silver Sweetlips.
Akoon - [5]
This is another great wall dive that descends into the depths with masses of Purple dottybacks that seem to live in every crag of the wall.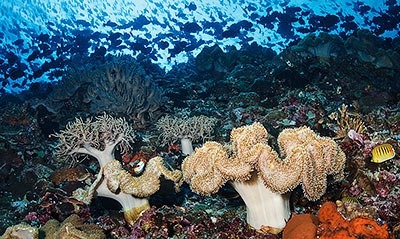 Akoon is teeming with life. It's a great the place for coming across different fish species such as Travelli and Snapper, and and to find yourself surrounded by schools of Red-tooth triggerfish.
This site is also home to the Emperor angelfish, Gilded triggerfish and the all-yellow Canary wrasse. Swarms of small magenta and gold slender Anthias create huge schools of fish, and where Lunar fusiliers dart past, trying to avoid the hungry attentions of Bluefin and Black trevally.
Above the wall in the shelter of the shallow reef flat, Six line wrasse can seek refuge in the Finger and Fire corals.
During your safety stop you can enjoy a huge number of different Leather coral species and Yellowtail damsels in the clear water.
Molana Selatan - [6]
This beautiful uninhabited island has 3 dive sites, all very worthwhile, depending on weather conditions. There is a tiny resort on the island, but when we were there - November 2013 - the resort was in a bad state.
At the south side there is a wall that drops down to more than 100 metres and therefore a great place to find more pelagic species. The reef around the island is healthy with colourful hard and soft Corals and many bigger fish such as Napoleon wrasse, Black and White-tip reef sharks and Eagle rays.
Molana Timor - [7]
Here the sloping reef becomes a wall that drops down to a maximum of 100 metres. You will find healthy Table and Brain corals, Sea fans, Whip coral and a variety of Sponges. Blue spotted stingrays, large Napoleon wrasse, Crocodile needle fish, Anemone fish, Razor fish, Snapper, Barracuda and more can be found which makes diving here a fantastic experience.
Molana Utara - [8]
When we were at Molana Island we needed to skip diving this site, on the northern tip of the island, because a huge storm was heading our way. Another reason to come back some time!
Pombo Booi - [9]
Unfortunately we did not have time left to dive here...also unable to find a good dive site description for this site. Again another reason to come back some time!
Walo - Cape Paperu - [10]
No information about this dive site yet, hopefully next year.
Batu Kapal Haruku - [11]
We have no experience diving at this site and we are unable to find any information to share at this time.
Pulau Pombo - [12]
This is another dive site we did not dive - unable to find information to share about this dive site.
Pom Pombo - [13]
We have no experience diving at this site and we are unable to find any information to share at this time.
Haruku Utara - [14]
This dive site was not done by us - also no information to be found! Lucky for us Ludovic Galko-Rundgren provided us with a great picture at Haruku.

Shark Cave - [15]
We have no experience diving at this site and we are unable to find any information to share at this time. Yes we will go back, hopefully next year. Although there are many more unknown islands for us to explore!


Twin Spot - [16]
We have no experience diving at this site and we are unable to find any information to share at this time. Hopefully next year.