The South Coast of Lombok
The south coast of Lombok is gradually attracting more tourism, but is still unspoiled.
With a few exceptions, the natural landscape and the traditional way of life have remained unchanged for hundreds of years.
The dominant Sasak culture in Lombok, 85% of the population, is culturally and linguistically closely related to the Balinese except for the Islamic religion; see Lombok - Traveling around.
Kuta is the best-known place on the south coast with a magnificent stretch of white sandy beach and rugged hills rising around it. This area is well known for surfing; good wave breaks left and right in Kuta bay and some more on reefs east of Tanjung Aan.
For divers Belongas bay and especially Kuta are not yet well known but the diving here is great with unspoiled reefs and an array of marine life.
Staying in the Kuta area gives you the opportunity to dive here and explore this beautiful coast by bike, although the roads can be a challenge, but it is worth it.
The new Lombok International airport, IATA code LOP, has been officially opened the first of October 2011.
All flights that used to go to Selaparang airport near Mataram are now going to Lombok International airport which is near the city of Praya.
Since the building of the new airport begun there are also a new roads being build so traveling to the kuta area is better then before.
Going to Kuta is a 30 min. drive from the airport and 1 hour from Lembar harbour, see 7 gili's SW.
Going from Kuta to Belongas bay will take you at least 2 hours by car; you have to travel via Praya and the last stretch is on a very bad road. We recommend you to stay in the Sekotong area or Belongas bay itself, see The Belongas bay dive sites, when diving here.
Dive conditions South coast of Lombok
The conditions are variable and there can be rough seas at the south east coast of Lombok.
During the dry season - May to October - the trade winds blow from the south-east and from the south-west during the raining season - November to April. The water temperature in south-east Lombok are between 25°-26°C which is quite cold, and can drop in a thermo-cline.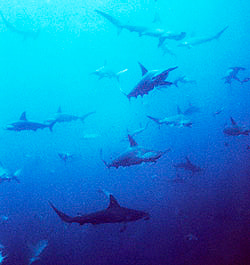 Best time to dive in the Belongas area are from March until mid June and the months October and November, when the water conditions are (relatively) calm.
The bay of Belongas is sheltered, but when you pass the narrow mouth around Gili Wayang, where the dive sites are, the sea gets rougher with a strong surge.
Therefore this is the place to be for the bigger marine life like Tuna, White and Black-tip reef sharks, Barracuda, Eagle rays and schooling Hammerhead sharks.
This is for the experienced diver, preferably rescue diver level, who is used to strong surge, up and down currents and negative buoyancy water entries. Depending on conditions, the dive company asks for at least 100 dives.
Diving the Kuta area can be done year round but the best time is during the first half of the dry season when the sea is still calm and the visibility around 10-15+ meters.
The dive sites you can do are depending on the weather conditions. Here you have dive sites for all level divers.
The reefs here are beautiful and intact with an abundance of colourful reef fish, Nudibranch, Crabs, Lobsters but also bigger Marine life in the "Blue".
Shark numbers are decreasing at a shocking rate.... What all people, especially divers, should know about the shark population.
Dive sites Belongas bay
This is a beautiful bay with white sandy beaches good for snorkeling and relaxing.
There is only one small resort in this remote area that can be reached in 10 min. by boat from Sepi.
The dive sites are all within a 30 min. reach from the resort.
This is an area where you would like to dive more then one day if you like big marine life and the thrill of challenging diving.
We can arrange the accommodation in Belongas, which is a very nice place to stay, or in the Sekotong area, where there are more options to stay.
From Sekotong to Sepi takes about 45 min. by car, so when you want to do more than 1 day diving better stay in Belongas.
Use the map to jump to the dive site :
The Magnet - [1]
This pinnacle is reached by boat in half an hour and is located in the open sea, rising up to the surface from 80m with waves crashing on top and over it creating a big surge that can be felt down at 15 meters.
You need to enter the water negatively buoyant so you can go down fast to 20-25 meters and here the spectacle starts. Tuna, Barracuda, schools of Mackerel are twirling around and a lot of White and Black-tip reef sharks.
When the conditions are right you can dive around the whole pinnacle. There is a cave at 20m where White-tip reef sharks are taking a break and a lot of other fish hang around. The visibility is around 10-20m.
It is an adrenalin rushing site only for the experienced diver!
In October 2009 we were diving under the right conditions and saw a school of Hammerhead sharks passing just below us and in July 2013 no Hammerheads but a beautiful Eagle ray at the cave.
Gili Sarang - [2]
This island is not much more than a huge rock with many pinnacles and impressive boulders rise up from a depth of around 40m and offer colourful soft corals.
Not as far out as The Magnet, but still in the open sea, this site can also have big surge and currents with a good chance to see Giant trevally, Mackerels, White and Black-tip and Grey reef sharks.
When the currents are not very strong, this is also a nice dive site for small animals such as Nudibranchs, Shrimps, Scorpion fish, Sweetlips and Surgeon fish. This dive site is for experienced divers.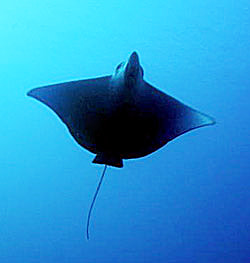 The Cathedral - [3]
This little island is called Anak Ewok and is another pinnacle going down to around 50m in a steep wall covered with soft Corals, Sponges and Tunicates.
On the surface only a small rock is visible with crashing waves filling the upper 5m of water with bubbles.
This advanced site also offers the bigger marine animals; White, Black-tip and Grey reef sharks, Tunas, Mackerels and Barracudas can be found and with a bit of luck you might encounter a school of Eagle rays here.
There is also a big cave at around 40m.
Another great dive site for the experienced diver.
Boulder city - [4]
This site is formed by big rocks with a vertical wall which drops down to 30m and has some interesting marine life surrounding it.
As the name of this dive site already suggests there are a lot of big rocks forming hundreds of swim-troughs.
Sharks, Napoleon wrasse and many, many Sweetlips and Angelfish have been seen here.
Coral garden - [5]
The Coral garden is sheltered from the big waves and offers an easy dive.
Here you find a chain of small pinnacles beginning in a depth of around 25m.
All pinnacles are covered completely with soft colourful Corals in yellow, orange and purple. Beautiful Gorgonian fans, Whip corals and Anemones with their inhabitants are here.
It is normally more a spot for small fishes and corals, but even Manta rays have been encountered.
Wollis pinnacle - [6]
This is the first dive site you encounter coming from the secluded bay. It is a large rock that rises up from the sandy bottom at 20m until 5m beneath sea level.
This is a sheltered rock with a lot of Nudibranchs, Frogfish and Ribbon eels can be found.
The Kuta bay area dive sites:
An easy 90-minute drive from the airport Selaparang makes Kuta a wonderful holiday destination for surfers, divers and sun lovers. The diving around here is for all levels of divers.
Next to diving this is the base for exploring Lombok's southern beaches, like Tanjung Aan, and the many points of interest in the region.
There is a range of accommodation in this region; from low budget hotels to high end resorts. Whatever you prefer we can arrange.
While we were here in October 2009 and July 2013 we explored this area, but we only dived at Belongas.
We have the descriptions of the dive sites from our dive operator, but we do not know exactly where they are located.

In the map we just put 3 dive flags randomly.
Gili Medas
This reef offers a great variety of reef animals, such as Lionfish, Sweetlips and colourful Nudibranchs.
The dive site starts at 13m and reaches a depth of 34m. You can also see schools of Mackerel, Surgeonfish, Barracudas and Eagle rays here.
Borah Bagih
This site is a wall that flattens into a plateau at 17m, and is a popular place for Lobsters and other Crustaceans. There are Napoleon fish, Turtles, and Stingrays around at this hard and soft coral dive site. The diving here is exiting with a max. depth of 32m.
Pelawangan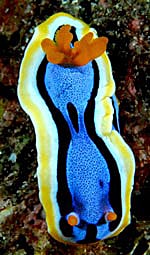 This site, part wall and part sandy slope, descends to a depth of around 18m.
Perfect for beginning divers or a nice colourful third dive.
On the hard coral growth you can find a multitude of Nudibranchs and Crustaceans. Also Cuttlefish, Turtles, Blue-spotted stingrays, as well as Lionfish can be found.
JJR
This site has a steep slope that reaches down to a depth of 30m. The slope is covered with of colourful soft coral where you can find a multitude of macro life, as well as Crustaceans. Napoleon wrasse and Barracuda frequently visit this reef.
While diving do not forget to look into the blue water, because there is a chance to see Manta rays out there.
Peningan
This popular site has a soft sloping slope that goes down to around 18m. There are amazing rock formations overgrown with an abundance of soft coral. The rock formations are a popular hiding place for Lobster, Blue spotted Stingrays and much more. Apart from the colourful reef fish such as Batfish, Parrotfish, and Trumpet fish, there is also a chance to spot Eagle rays and Black and White-tip reef sharks.
Gerupuk Bay
This site consists of a wall that bottoms out at about 30m.
The wall is overgrown by fascinating hard coral formations with a multitude of niches and crevices where you can find Lobsters and Crabs. Other marine life like Stingrays, Sweetlips, Parrotfish, Emperor fish are here and you might encounter Tuna or Trevally.