Arrival in Bali - pick up by our car to your accommodation in the Bukit Peninsula. This boutique hotel is situated at a cliff with spectecular ocean views.
This day is to acclimatize and relax...
At 5.00pm our driver picks you up to take you to the famous Jimbaran beach. Here, while experiencing a beautiful sunset, you can enjoy dinner with an amazing choice of grilled fresh fish.
Pick-up at 1.00pm by our driver who will take you to Nusa Dua beach to enjoy the scenery.
Then via some of the surf beaches to the Uluwatu temple whith its location perched on a steep cliff 70 metres above the roaring Indian ocean waves.
Around 6.30pm you will see the Kecak dance in these unique surroundings.
After breakfast the driver will bring you to Bali Bird Park..
The park is home to almost a 1000 birds of 250 different species, an amazing display of flora with more then 2000 tropical plants and a reptile park. Early afternoon you will check in at your hotel at Monkey forest road in Ubud and you can explore your surroundings.
This day you can do whatever you want. Visit Monkey Forest, go strolling around Ubud and visit some art galleries, watch one of the Balinese dances performed on different locations or go and get pampered in one of the numorous Spa's.
This is your Ubud day.
After breakfast our driver will bring you to the starting point for rafting on the Telaga Waya river. After this adventure you will enjoy a nice Indonesian lunch, before you continue your journey to Padangbai.
Around 2.00pm you will check in at the hotel.
The rest of the day you are free to explore this small and cozy harbour village with bars and restaurants.
After breakfast you go to the dive centre to enjoy a day of boat diving around the small islands of Mimpang and Tepekong. You will be back early afternoon so enough time to relax or explore some more of Padangbai.
After breakfast you will take off to the islands of Nusa Lembongan and Nusa Penida, to do some great diving.
Since these island are further away you will be back late afternoon.
Around 10.00am you will be picked up by our driver who will take you to Tulamben. There will be a stop at the beautiful Water palace Tirta Gangga
where you can have lunch.
Around 2.00pm you check in at the dive resort situated directly at the sea.
Since this resort is in front of the dive sites you might actualy go for a dive before breakfast. Especialy when you want to start your dive on the famous US Liberty wreck since this site gets a lot of divers after 9.00am.
Tulamben bay also offers very good snorkeling. You will be making 2 dives this day, but you are free to do some more diving if you want! The dive resort has a good restaurant, but there are more options available in Tulamben.
Second day of diving Tulamben. You make 2 dives, but if you want to do more diving feel free to arrange this yourself.
This morning you will be picked up by a driver who will take you, via the Besakih temple, to Lake Batur.
Depending on the time you spend at the Pura Besakih you arrive around 2pm in the afternoon at Lake Batur. You will stay in a bungalow immediately at the Lake. This afternoon relax and enjoy the views, remember that your Sunrise trek to Mt.Batur starts at 4am and Mt.Abang starts at 2am!
At 3.30am (Mt.Batur)or 1.30am (Mt.Abang) you will be picked up at your hotel and go by car to the starting point for your trek up Mt.Batur (1717m) or Mt.Abang (2152m).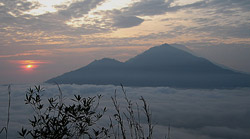 It will take you between 2 and 3 hours to reach the peak of Mt.Batur, all depending on your level of fitness and/or your need for speed... Around 6.15am arrive at the top and wait for sun to rise while having banana bread, coffee and boiled egg.
After an hour or so at the top you will start your descend back to the starting point where the car will bring you back to the hotel.
Later in the morning you will go by car to Lovina (a 2 hour drive) where you will stay in one of the long-time established hotels right at the beach, in the very centre of Kalibukbuk.
Your second day in Lovina you might use to watch the dolphins hunt Tuna early in the morning; see more nature in Bali.
Book a boatride, the day before at the hotel, to see them in action.
You'll spend about 2 hours on one of the little jukungs following the dolphins while they pop-up at different locations all the time......
Or you can stay in bed a little longer....
This morning you'll be picked up to go to Menjangan and stay in one of the high-end resorts. On the way there you will make a stop at a dive site called Puri Jati. This is one of the few really good "muck-diving" locations in Bali and here you will see a lot of unusual creatures on the sandy slopes from the beach. Two dives and a lunch is included.
After the dives the drive continues to the resort were you will arrive in the afternoon. Enough for today; enjoy the wonderful surroundings of the resort with it's pools from the natural hot springs.
Today is another day of diving, this time around Menjangan island. The resort is located very close to the island and all the dive-sites are within a 10 minute boat-ride. Again 2 dives today including the lunch to be used on Menjangan island itself.
After the diving (around 02.00pm) there is time to relax or use the time to explore the surroundings.
After breakfast you will leave for Secret Bay, a famous muck diving site in Bali.
Entrance to this site from the shore where there are facilities to rinse equipment, take a shower after diving and a little restaurant for a drink. Lunch will be included with the dives. After diving back to the resort and the rest of the day to yourself.
Final day of diving, again around Menjangan island. Same, same but different dive sites this time.
After breakfast the driver will pick you up and bring you to the mountain village of Munduk. On the way to Munduk there is ample time to see make a few stops either at the Hot springs of Banjar (a small detour), or just anywhere you like to spend a little time.
Arrive early afternoon in Munduk to spend the night in a traditional Lumbung-style bungalow from where you'll have a magnificent view over the valley below.
Today is a day of walking with a guide to explore the surroundings and see and feel how the people live and grow crops and stuff. Beautiful nature is here to be seen including a couple of waterfalls. This whole trip will take around 4 hours.
Pick up in the morning by car to go to Sanur via the Pura Batukaru.
After more or less 4 hours you will arrive in Sanur (South of Bali) where you will stay in a beautiful resort directly at the beach.
This place will be a nice end of your holiday with lots of places to go at night and enjoy the relaxed beach atmosphere.
Your last two days in this resort.
Our driver will be waiting to pick you up and bring you to the airport.
---
Please contact us when you are interested in this trip or any of the other example holidays:
The last menu option, contact us, contains an enquiry-form. Here you can indicate what you like to do during your holiday and send this to us.
From there, through two-way communication, we hopefully come to a final holiday schedule.
We have created this example holiday in 2012. Now 2018: be aware that Bali has become way more popular and is therefore more crowded, especially during the high-season periods: end June-July-August and half December until half January.