Padangbai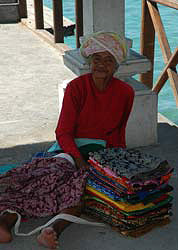 Padangbai is a small harbour town in eastern Bali, approximately 50km from the international airport, which will be a one and a half hour drive by car.
It serves as a ferry port for travel to Lombok, the Gilis and other of the Lesser Sunda Islands.
A lovely beach town that is popular with those who prefer a small town atmosphere.
Here you will find nice bars and restaurants with a good variety of local and international dishes all within walking distance.
This area is also known for its sacred temples. On one side of the bay you will find the Silayukti temple and Tanjung Sari temple.
Besides these two temples, there is also Penataran Agung temple that is located on the west side of Padangbai.
At the white sandy main beach near the ferry terminal you will find lots of boats from local fisherman and the dive-operators.
There is a beach just to the north known locally as the Blue Lagoon and the especially nice Secret Beach just to the south of town. Secret Beach was not accessible for a while due to new development, but they stop building and this beautiful beach is open again.
The accommodations vary from very cheap to a bit more expensive in the bay area where you also have nice little cafes, but there is also the possibility to go a bit more high end. There are beautiful private bungalow's for rent with an amazing view over the "Blue Lagoon".
It also possible to do your diving from here to the islands of Nusa Penida - see Dive sites Nusa Penida - and Nusa Lembongan - see Dive sites Nusa Lembongan.
You might consider to stay here for a couple of days or longer, whatever you want we can arrange it.
Dive conditions Padangbai
There are a couple of dive sites nearby which are reached by boat within 10 minutes and the little islands of Tepekong, Mimpang and Biaha a little further away.
There is also the possibility to go diving at the islands of Nusa Penida and Nusa Lembongan, which will take more or less one hour by boat.
The dive conditions in the bay are for all levels of divers. Water temperatures are a comfortable 27°C, but can drop to 25°C and lower especially at the islands.
Visibility is good, best between June-October, but always depending on the weather conditions.
Best diving in the Padangbai area is in the morning. See also the detailed weather graphs.
The marine life is diverse enough to make some dives in the bay area. We describe 5 dive sites, but there are more....
Shark numbers are decreasing at a shocking rate.... What all people, especially divers, should know about the shark population.
Dive sites Padangbai
Use the map to jump to the dive site :
Blue Lagoon- Temple - [1]
This secluded site is a good spot for beginners and known for the night dive.
You will find a sandy bottom with many different soft and hard Coral species. The Coral bommies provide shelter for all kind of reef fish. Crocodile fish , Nudibranchs, Flounders, Cuttlefish and Scorpionfish are to be seen over here.
The Wall - [2]
To the north east the Blue Lagoon is separated from Jepun bay through a rocky cape which continues under water as a sheer wall that bottoms out at 30 metres.
The wall is home to hundreds of Feather stars, Lionfish, Scorpionfish, Urchins and a variety of Shrimps.
If you are lucky you will see juvenile Sharks, Octopus and Cuttlefish.
Tanjung Sari - [3]
This dive site marks the Southern end of the Blue Lagoon and stretches along the cape. Due to its location this reef is exposed to currents caused by tidal movement.
Regular visitors are the White-tip reef sharks, Eagle ray, Napoleon wrasse and Tuna. During the dry season, May until September, the water temperature is cooler and Wobbegongs can be seen.
Ferry channel - [4]
The site starts just outside the green beacon which marks the east side of the narrow channel.
A steep slope to about 15 metres deep where there are horizontal crevices which provide shelter for Lobster and sometimes sleeping White-tip reef sharks.
A few metres deeper are some bommies with a cleaning station frequently visited by giant Moray eels.
A great site for Nudibranchs, and encounters with Turtles might happen in the shallower parts at the end of the dive.
Bias Tugal - [5]
This dive site is located right in front of the beautiful white sand beach named "Bias Tugal".
The bottom is covered with soft Coral and bommies with hard Coral strewn in between and slopes down steeply to about 50 metres.
At a depth of 30 metres are horizontal crevices where you might find large Stingrays, Nurse sharks and Lobsters.
Dive sites Gili Mimpang, Gili Tepekong and Gili Biaha
These small islands - gili's in the Sasak language - and rocky outcrops lie just a kilometer off the east coast of Bali and are clearly visible from Candidasa.
The islands can be reached by boat from Candidasa (5-15 minutes) and Padangbai (10-25 minutes).
By boat from Padangbai the first island group to reach is Gili Mimpang followed by Gili Tepekong and the last in the row is Gili Biaha. By the local people the islands are also known as Batu Tiga (3 stones), Gili Kambing (Goat island) and Gili Likuan.
These islands offer big schools of pelagic, reef fish and is one of the best places to see Sharks in Bali.
In areas battered by the currents the Coral growth is stunted, but still healthy and full of life. In the more sheltered areas the Corals can match those of Nusa Penida.
Visibility around these islands is at its best from June until October!
Important to know is that the water can be uncomfortably cold and it might even drop beneath the 20°C (normal temp. is 28°C) in a thermo cline!!
Diving around these islands is more suitable for the experienced divers, since the sites can have tricky currents and a strong surge.
Gili Mimpang - [6]
These 3 mini islands have slopes and walls covered with a variety of Corals.
The visibility can be up to 30 metres between June and October. Water temperature is cold during these months, so we advice a 5mm wetsuit.
You will encounter many different fish on this side and at Shark junction, it is all in the name, a 95% chance to see one of those beauties.
Occasionally Manta rays and Mola-mola's (Oceanic Sunfish) can be seen here.
Beware: around new moon the currents are tricky!
This site is for advanced divers when the currents are strong.
Gili Tepekong - [7]
There are two dive sites around Gili Tepekong - one west and one east :
The west side has a small canyon and a twin peaked seamount known as "the Pinnacles".
In general the pinnacles are exposed to a mild current, but can become very strong, hence the nickname "the Toilet".
Good chance to see the big hunters, like Tuna, Barracuda and Shark, since there are lots of schooling fish to be found here. Hard and soft Corals provide shelter for many reef fish.
Turtles are regular visitors to this spectacular dive site as well as the legendary Mola mola - Oceanic Sunfish.
This is one of our favourite sites in Bali!
The east side and has a sloping ridge with hard and soft Corals and Sponges. Between 18 and 24 metres are Coral bommies under which Reef and Nurse sharks can be found as well as Lobster and Sting ray.
At the southern end of the slope we find a tunnel /cave at 18 metres which exits on the other end at 28 metres in a 50 meter vertical wall.
Especially around FULL and new moon the currents are tricky!
Gili Biaha - [8]
This island is located about four kilometres north east of Tepekong and rises out of the deep sea.
Around the island are sloping reef formations, starting at 5 metres descending in steps to 12 and 20 metres to 50+ metres, combined with steep drop-offs.
The west side has a steep wall that drops down at an angle of about 45° to 50+ metres with beautiful hard and soft Corals.
The east side, inside of the curved part of the island, is always protected from the current, but heavy swell near the reefs wall face can be tricky, especially for the boat that picks the divers up.
Moray eels, Tuna, Barracuda, Turtles, Octopuses and last but not least a 90% chance to see the White-tip reef shark resting in the Shark cave at only 12 metres deep.
These 2 dive sites can be dived as one when the currents allow it and are for the advanced divers.