Secret Bay
Gilimanuk is a large town and lies on the tip of a peninsula that borders the Bali Barat National Park in West Bali.
It is an important port town for the ferry that connects Bali and Java. Gilimanuk Bay is about two kilometres across and very shallow with an average depth of 4 to 5 metres.
There are two small islands inside of the bay:
Pulau Kalong, the name means flying Fox - these are large fruit bats, and Pulau Burung which means Bird Island.
These islands are actually barely more than sandbanks.
The bay and the surrounding mangrove areas, known as Secret Bay, are a nursing ground for fish, the water is fed by upwellings brought by the daily tidal changes from the Bali Strait that are rich with plankton.
Water from the upwellings have a temperature between 23°C - 25°C.
Diving here is best to do as a day trip from resorts near Menjangan island or Pemuteran.
Dive conditions Secret Bay
The nearby Bali Strait, is 3km wide and around 60m deep, with the rich waters roaring through at currents that reach up to 7 knots.
The entrance to Gilimanuk Bay is just over 600m wide and, because of the shallow reef on the northern side a third of that is taken up by the 8-10m deep channel that directs the flow of water from the Bali Strait into the bay. It is this water, rich with plankton and other nutrients, that feeds the inhabitants of Secret Bay.
The dives at Secret Bay are very shallow - no more than 10 metres during high tide - and visibility is varies between 5 metres - low tide - up to 15m.
The best time to dive is around high tide or on the incoming tide when visibility can sometimes be up to 20m.
The water temperature is almost always between 23°C - 25°C so bring on the warmer suits.
There is an area to gear-up complete with toilets, fresh water showers and rinse tanks. Near the changing area is a small restaurant that provides local dishes for lunch and dinner.
Dive site Secret bay
This dive site is located in front of the docking area of Gilimanuk Harbour about a 40 minute drive from Pemuteran.
Be prepared to dive on fine black and gray volcanic sand and rubble and not on a Coral reef!
Great place for macro-photography and already compared to Lembeh strait in North Sulawesi.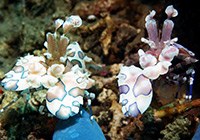 Here you find different species of Frogfish, special Nudibranchs, Ghost pipefish, the rare picturesque Dragonet and Gobies, several species of sand Eels, Stonefish and Devilfish, Mimic octopuses and even the Ambon scorpionfish, Crabs, Shrimps and many other critters that like to live on or under the sand.
This is a real muck-dive site and diving Secret Bay can be done all year around.