Our driver will pick you up from the airport by car to transfer you to the hotel in Ubud on Monkey forest road.
Time to unpack and rewind at the pool or go to one of the numerous restaurants close to the hotel.
Your hotel is centrally located for a visit to the famous Monkey forest with 2 large families of long tail Macaques.

You could also go strolling around Ubud and watch one of the Balinese dances performed on different locations, visit some art galleries or go and get pampered in one of the numorous Spa's.
This is your Ubud day.
After breakfast, around 10.30am, pick up by car to bring you to Padangbai harbour where the boat to Gili Trawangan departs. Departure time is 11.30am and you arrive at the island of Trawangan at 1pm where you take a cidomo (horse car) to the resort.
You will stay 4 nights in a luxerious resort with swimmingpool and dive centre.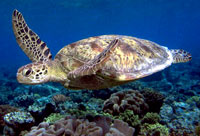 Together with the dive centre you descide when you want to do the 2 days of boat diving.
There are a lot of dive sites around the gilis where you can go diving, depending on weather conditions.
There is also 1 Balinese massage awaiting for you whenever you want, just enjoy the gili life!
The resort will transport you with a speedboat to Bangsal and from there to your boutique hotel in Sengiggi.
Check in around 2pm in your hotel in Senggigi and enjoy the scenery.
After breakfast you will be picked up by the dive company to take you to the dive boat. Depending on season, weather and experience you will make 2 boat dives North of Gili Meno and Air. After your day of diving the dive company will take you back to relax at the resort.
After breakfast pick-up by the dive company. This day you will make 3 boat dives and see some Macro sites.
This is your last day in Senggigi, so enjoy!
After breakfast you will be picked up by a car from the dive company where you will be diving with the next couple of days.
Transfer from Senggigi to Sekotong is about 2.5 hours, ask the driver to stop somewhere nice if you want to have lunch on the way.
Check in your luxurious resort after you have visited the dive shop to make a schedule for the days to come; 2 days of 2 boat dives in the Sekotong area and 1 day of 2 boat dives at Belongas Bay.
There is a huge difference between diving on the North, beautiful corals, and the South side, more current and large pelagic's, of the Batugendeng peninsula.
These 3 days you will be enjoying the underwater world North and South of the peninsula Batugendeng. The Sekotong area has beautiful coral reefs while the Belongas bay area is more thrilling with lots of pelagics.
After diving you can relax and enjoy the beautiful resort where you staying.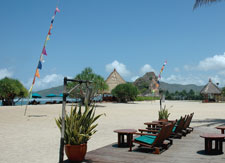 Around 10am a car will pick you up to bring you to Kuta this will take more or less 2.5 hours.

On your you can stop at Sukara village to see some traditional weaving and at Sengkol a Sasak village, see the Lombok map with places of interest in Lombok.
Around 1pm you wil check in the luxurious resort in Kuta where you wil stay for 3 nights.
The dive centre is in the resort so you can decide together with the dive master when you want to do your 1 day of 2 boat dives.
The day that you are not diving you can either rent a bike or go by car to visit the different bays and beaches of South Lombok.
You will be transfered by car to Praya, where Lombok international airport is located, at 10am; your flight to Bali will leave at 12.35am.
Around 1.05pm you will arrive in Bali where you will be picked up by our driver to take you to your hotel in Kuta at the beach.
Relax and enjoy the beach and night life.
Our driver will pick you up to take you to the airport.
---
Please contact us when you are interested in this trip or any of the other example holidays:
The last menu option, contact us, contains an enquiry-form. Here you can indicate what you like to do during your holiday and send this to us.
From there, through two-way communication, we hopefully come to a final holiday schedule.
We have created this example holiday in 2012. In August 2018 Lombok has suffered 3 major earth quakes. The Gili's have a lot off damage as well as many small mountain villages around the Rinjani volcano. The International airport near Praya is open, but boat traffic between Bali and the Gili's has stopped and will be resumed in September 2018.